December 20, 2006

Wheat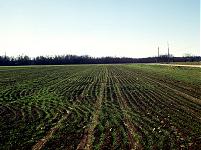 I still plan to establish a Wild Oat Control Test in Runnels County and Taylor County and a Ryegrass Control Test in Brown County if the opportunity presents itself. Spraying herbicides at this time of the year is always a challenge. I try to wait for a window of opportunity to make the applications. The window I'm looking for has to meet two criteria: 1) prior to the application–the air temperature needs to remain above forty degrees for 48 hours, and 2) following the application the air temperature needs to remain above forty degrees for 48 hours. Sounds simple enough but you don't get many opportunities to spray in January.
About 100,000 acres of wheat was planted in December and the temperatures have remained low through most of the month. This will have a negative impact on the developing wheat plant. These plants will have a small root system and will require timely rain in the Spring in order to develop a grain crop with desirable test weight. Freeze damage can occur in young plants (two to three leaf stage) when air temperatures drop to the 10 to 15 degree range, especially if the soil is dry. If the top 1 to 2 inches of soil is wet it will serve as insulation to the young wheat plants.
Snow provides some insulation which protects the wheat. Wheat that is well tillered should be able to withstand temperatures in the -5 degree range for at least a short period of time. The longer it stays this cold the greater the risk of killing the growing point. Hopefully, the top two inches of soil will be wet to help insulate the wheat's growing point.
I know that some producers are asking about fertilizing wheat. If they plan to apply a dry fertilizer such as ammonium nitrate or ammonium sulfate they need to be sure that the soil surface is dry. If I was making a choice in the type of fertilizer to apply, I would select ammonium nitrate since half of the nitrogen applied is already in a form the plant can readily absorb.
Cotton
Soil sampling to two feet will be important in 2007. Samples should be taken at 0 to 6, 6 to 12, 12 to 18 and 18 to 24. This will give you clear picture to the available nutrients. With the price of fertilizer lower than last year, several producers will be making applications for the 2007 growing season.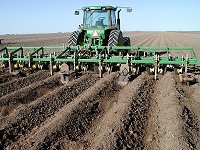 Producers need to go ahead and prepare the seedbeds for next years crop. Installing furrow dikes in all rows except where the tractor will be traveling will give them the best chance of keeping every drop of rain received in place instead of heading to the low spots.
When rain does occur be diligent about controlling the weeds. Loss of moisture and nutrients by weeds should not be tolerated. For the best control you should be using flat fan nozzles but remember your drift potential is much higher; so be sure you own everything around you if you use this kind of spray tip.
The Beltwide Cotton Conference will be held in New Orleans, Louisiana, January 9 - 12, 2007. This is an excellent meeting for increasing your knowledge about cotton production. For more information go to the following URL http://beltwide.cotton.org/.
Pesticide Recertification Training
On Monday, January 8, there will be a training conducted at Abilene for producers needing to obtain a Private Applicators License. For more details and to register for the meeting call Gary Bomar at (325) 672-6048.

At the Big Country Farm Show held on February 20 & 21, 2007 in Abilene, Texas a pesticide applicator can earn several CEUs each day. Just have them call Gary Bomar at (325) 672-6048 for more information.

If you are having a program in the next three months that offers CEUs please let me know; I have had several calls already from applicators needing hours.
For Your Information
I haven't found where they moved the pictures linked to the TWIG web site from the http://www.plantsci.missouri.edu URL. For the time being you will have to use the weed info disk supplied to you this summer.
Rangeland Restoration
Producers intending to establish grass in 2007 should already have their soil test results and hopefully made the necessary fertilizer applications. Seedbeds should be level, firm and free of rocks at the time of planting. The seedbed will need adequate time to build up soil moisture and become firm.
Monthly Calendar
December 2006
December 21 - 31, Potter, Randall, & Deaf Smith Counties, Christmas Holiday
January 2007
January 8 - 12, Brazos County, Ag Program Conference
January 16, Glasscock County, Result Demonstration Review
January 23, Howard County, Soil and Soil Fertility
January 24, Martin County, Permian Basin Cotton Conference
January 30 - February 1, Travis County, Cotton Physiology Meeting

February 2007

February 1, Taylor County, Soil and Soil Fertility
February 5, District 7 Office, Office Conference
February 8, Callahan County, Multi-County Forage Conference
February 8, Tom Green County, Drift Minimization
February 15, El Paso County, Cotton Production Meeting
February 20 & 21, Taylor County, West Texas Farm and Ranch Conference
February 22, Burnet County, Plant Growth and Development
February 26 - 27, Noble Foundation, Ardmore, Oklahoma, Texas ASA Meeting

Also, I want to take the opportunity try out some different fonts:
Seasons Greetings (Bremen Bd BT)
Happy Holidays(Pristina)
Good Bye 2006(Charlesworth)
Hello 2007(Curlz MT)
Happy New Year(PosterBodoni BT)
Best Wishes to You and Your Family (Edwardian Script ITC)
Sincerely,


Billy E. Warrick, Ph.D.
Professor and Extension Agronomist
Texas Cooperative Extension
Texas A&M University System