Texas Agricultural Extension Service
Texas A&M University System
February 28, 2001



Wheat
Producers intending to control broadleaf weeds are out of time on the early planted wheat. Much of the acreage has already started to joint and would be impacted by many of the herbicides available. For the later planted wheat, the main considerations in herbicide selection are the haying, grazing, and crop rotation restrictions. Producers will need to read and follow the label directions closely. The grazing and haying restrictions may impact producers that have to harvest this crop as hay instead of grain. The spring weather will hold the key on what is produced.
In April of 1997, we had a cold front with freezing temperatures come through our region which reduced wheat yields by about 25 percent. Several agents were involved in checking wheat fields for injury and were asked to make recommendations concerning the best use of the wheat crop. As the wheat starts to grow in the spring it becomes more sensitive to low temperatures. It only takes about two hours of cold temperatures to injury the wheat. If you are unfamiliar with freeze injury in wheat please review this factsheet.
Cotton
For your information there will be a cotton production conference held at San Angelo on March 27, 2001. There are a number of specialists from across the state involved in this activity. This will be a training meeting for agents in cotton producing counties. The agents that are unfamiliar with cotton production will be asked to attend the introductory session which is designed to provide basic information. This will give you the opportunity of asking all those questions that you will be answering for producers in 2001.

Seed supplies are tight for most of the varieties that producers like to plant. Alternative varieties may have limited production information for our area so pull out the dice if you feel lucky, otherwise, stick with a proven conventional. Click here for a summary of the information collected from result demonstration variety tests over the last 12 years.

From the responses I have received, there are only a few cotton variety tests to be established in 2001. If you forgot to request seed for your county variety test, please contact me as soon as possible.

The rainfall has been greatly appreciated by producers, the water may have removed most of the available nutrients from the upper portion of the soil. An application of nitrogen at planting time may make a noticeable difference in the initial growth of the plant.
Weeds and Weed ID
With the soil moisture received in October and then in January and February we have had plenty of weeds emerge. "Weed Identification: Using Plant Structures as a Key" written by Dr. Paul Baumann, provides useful information on weed identification. If your wanting to identify a specific plant there are several sites linked off of the San Angelo web page to assist you, these can be viewed here. To prepare for spring, test your knowledge on these photographs (This is a large file and takes a while to load all the pictures).
Grain and Forage Sorghum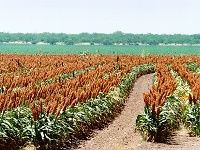 Seed supplies should be adequate this year. Some of the counties have indicated that they plan to establish variety tests. Most of the seed will be obtained from local seed dealers. Some important considerations are:
Make sure that all hybrids are in the same maturity group,
If a plated planter is used, make sure that all the seed are close to the same size (number of seed per pound),
Establish the test after favorable environmental conditions are reached. For a listing of company information on grain sorghum varieties refer to Recommended Last Planting Date for Grain Sorghum in the Texas Low Rolling Plains.
Sunflowers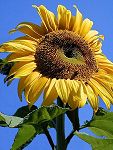 Sunflower production information for our region can be found here. For those wanting additional information, Calvin Trostle, Extension Agronomist at Lubbock sent out the following information and you can review it to increase your knowledge on the subject. The factsheet "Common Concerns in West Texas Sunflower Production and Ways to Solve Them" will provide you with the information needed to answer many of your producers questions.
Dr. Trostle also indicated if you want to keep up with the market LDP on sunflower that the http://www.grainline.com/ wasn't useful for finding confectionary sunflower and you would have to get that information for Texas from USDA. Just find your county in the pulldown menu and press the select button. It is updated daily. Most confectionary contracts are running $16-17/$8 per cwt. pending on seed size. The producer has the option of taking the LDP for a lower contract price, $15/$6 per cwt. at Sigco Sun (if Sigco collects the LDP then the price is $17/$8 per cwt.). It would seem that the producers who feel the LDP is reliable might take the lower price and make a little more, but I think the majority of growers are taking the higher cash price without LDP.
The big question remains to what extent there will be oilseed acreage in the South Plains. Northern Sun, a division of ADM, indicated yesterday that there is a decent possibility that ADM will take delivery at the Levelland oil mill as well as Muleshoe. Also, Attebury Grain will be handling oilseeds at some locations in the Panhandle, but I don't know about Tulia or Lubbock. Southwest Grain may handle in Plainview. New crop NuSun oilseed is currently $6.55/cwt with LDP about $3.48/cwt and a premium for oil content above 40%.
Pesticide Recertification Training
On Monday, March 12 there will be a training conducted at Abilene for producers needing to obtain a Private Applicators License. For more details and to register for the meeting call Gary Bomar at (915) 672-6048.
If you have a training where CEUs are offered please let me know.
Monthly Calendar
March
March 5, District Office, Office Conference
March 16, Tom Green County, Professional Ag Workers
March 19, District Office, Gin Delegate Steering Committee Meeting
March 20, Menard County, Forage Production Meeting
March 21, Kimble County, Training on Digital Cameras
March 27, Tom Green County, Concho County Cotton Conference
March 30 Mason County, Multi-County Production Meeting
April
April 2, District Office, Office Conference
April 3, Scurry County, Multi-County Cotton Production Meeting
April 4, Mills County, Permanent Pasture Management
April 5, Eastland County, Multi-County Forage Field Day
April 9, Taylor County, Beef Cattle Short Course
April 10, Mason County, Field Crop Information Meeting
April 12, Burnet County, Master Gardeners Program
April 17, Schleicher County, Crop Workshop
April 19, Ector County, District 6 Forage Program
April 25 - 27, Bell County, CropMan Training at Temple
Sincerely,


Billy E. Warrick
Extension Agronomist
Texas Agricultural Extension Service
Texas A&M University System