February 3, 2006

Wheat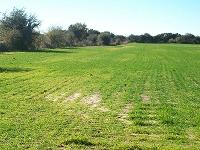 When should a second application of nitrogen be made to wheat to be harvested as grain?
Only a small portion of the total nitrogen used by the crop is required prior to jointing (usually around 20 to 30%). Topdress nitrogen is best utilized if applied prior to jointing. Evaluate fields as growth begins in the spring. If tiller numbers are low, producers will want to apply the fertilizer early. The amount to apply should be based upon amount of nitrogen present in the field and yield potential. Ungrazed wheat will use about 1.7 pounds of nitrogen per bushel of yield. Base rates on projected yield considering: 1) the crop condition, 2) availability of moisture, 3) residual nitrogen at planting (from soil test), and 4) amount of fertilizer applied preplant. Source of nitrogen has little to do with yield response. Apply the source that can be most efficiently and economically applied. To reduce leaf burn with high rates of liquid applicator, consider using dribble nozzles.
By late February, the wheat will reach a stage of growth where nutrient and water uptake is increasing. If producers intend to get the most from the dollars invested in fertilizer, they need to apply nutrients just before winter dormancy ends. Soil nutrient levels need to be at a high level when the formation of the head occurs. If the head can be found above the soil surface the producer has lost the opportunity to impact the number of spikelets per head and the number of seeds per spikelet. The only other variable of production remaining that can be influenced by the nitrogen applied in the spring is seed size.
What should I do to control Wild oats that emerged late in wheat?
To improve the level of weed control producers are advised to: 1) check the weather forecast and make sure that night time temperatures will be above 40 degrees for two days prior and following the application, 2) have adequate soil moisture at the time of application, 3) read and follow the herbicide label, 4) apply at least 15 gallons of water per acre, and 5) apply herbicides to young unstressed weeds. For more information about Wild oats and its control please read this linked publication (http://sanangelo.tamu.edu/agronomy/wheat/wildoat.htm).
Cotton
As you know the way we design and conduct cotton variety tests have changed. I still attempt to include the varieties that the producer wants and varieties that perform well in the county. However, there are 40 new varieties being introduced to the market in 2006. Our main thrust is to eliminate varieties that don't perform before they make it into large scale production. To do this we have to put varieties into a wide range of tests. We are serving our producers well if we can identify what genetically superior lines are available and what their growth and development traits are. Contact me soon and let's design your 2006 Result Demonstrations.
Linked is the production data from cotton variety tests conducted in 2005. With the rainfall received in 2005 many producers had the best crop ever. Yields and fiber qualities were influenced by the year. They still show the genetic potential; but how the varieties will perform in a hot, dry year is still to be determined.
Fisher County - 1 test,
Howard County - 5 tests,
Jones County - 2 tests,
Nolan County - 1 test,
Runnels County - 4 tests, and
Tom Green County - 4 tests
The file sent to you was formatted to be retrieved directly into WordPerfect. NOTE: When you finish your cotton result demonstration reports, I would appreciate it if you would send me a copy by e-mail. Thanks.
Seed supplies of most cotton varieties should be good for the upcoming season. Several of the new Flex varieties will be in limited supply. This is probably best since we don't have much data on these new varieties.
The rains received during January may result in weed emergence in acreage where seedbeds have already been prepared. An application of 2,4-D will control a broad spectrum of broadleaf weeds, however, the replant window can be up to 90 days. Read and follow the herbicide label.
Grain and Forage Sorghum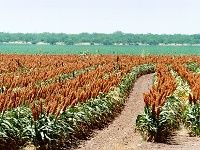 It is time to request Corn, Grain Sorghum and Forage Sorghum seed for 2006 result demonstrations. If you need additional information about the varieties and hybrids available, I have compiled a list of company web sites and the URL is: http://sanangelo.tamu.edu/agronomy/newsltr/company.htm. Companies need to be contacted in the near future to acquire the seed you need for testing.
Sesame
The current contract on Sesame is 25 cents per pound. Contracts will be offered to previous growers first and then opened up to other growers if additional acreage is needed. For information about sesame production refer to the following URL. http://sanangelo.tamu.edu/agronomy/factshet/sesame.htm.



Pesticide Recertification Training
Don't forget that your TDA pesticide applicators license will expire the end of February. If you have not gotten your paperwork for renewal, you may want to contact the TDA.

There will be a meeting conducted February 9, 8:30 a.m. at the Cross Plains Community Center. The educational meeting will be worth 5 CEUs (1 IPM, 1 Laws/Reg, 3 General) for TDA license holders that complete the paperwork. For additional information contact Robert Pritz at (325) 854-5835.

There will be a meeting conducted February 9, starting at 1:00 p.m. at the Texas A&M Agricultural Research and Extension Center north of San Angelo, Texas. The educational meeting will be worth 5 CEUs for TDA license holders that complete the program and paperwork. For additional information contact John Begnaud at (325) 659-6522.

On Monday, February 13, there will be a training conducted at Abilene for producers needing to obtain a Private Applicators License. For more details and to register for the meeting call Gary Bomar at (325) 672-6048.

There will be a meeting conducted during the West Texas Farm & Ranch Expo (Abilene, Texas) on February 21 & 22, 2006. For TDA license holders, the educational meeting held February 21 will be worth 3 CEUs. Two courses will be conducted on February 22 each worth 3 CEUs. For additional information contact Gary Bomar at (325) 672-6048.
Monthly Calendar
February
February 1 & 2, Travis County, Texas and Oklahoma Physiology Study Group Meeting
February 6, District Office, Office Conference
February 9, Callahan County, Forage Production Meeting
February 9, Tom Green County, Last Chance CEU Conference
February 14, District Office, Resistance Management of Weeds
February 17, Tom Green County, Professional Ag Workers
February 21 & 22, Taylor County, Texas Farm & Ranch Expo
February 26 - 28, Brazos County, Texas Agronomy Society Meeting
March
March 1, Taylor County, Soil and Soil Fertility
March 6, District Office, Office Conference
March 7 - 9, El Paso County, Cotton Production Meeting
March 15, Runnels County, Runnels County Ag Day
March 17, Tom Green County, Professional Ag Workers Meeting
March 20, District Office, Teleconference
March 28, Tom Green County, Native Plant Society Meeting
March 30, Burnet County, Multi-County Plant Growth and Development
Sincerely,


Billy E. Warrick
Professor and Extension Agronomist
Texas Cooperative Extension
Texas A&M University System