February 4, 2008

Wheat
How dry can it get before the wheat dies? The wheat plant at its current growth stage is using very little moisture and nutrients. It should be able to hang on a while longer.
Most wheat acreage has not developed a weed problem yet. With the rain received in some areas the third week of January, producers may have to deal with a late flush of Wild oats and broadleaf weeds. In fields where the Wild oats are in the three- to six-leaf growth stage an application of Puma, Osprey, Finesse Grass and Broadleaf, Hoelon, or Axil should be made soon. It will be important that the following conditions exists to get the best possible control: 1) check the weather forecast and make sure that night time temperatures will be above 40 degrees for two days prior and following the application, and 2) have adequate soil moisture at the time of application. Also, producers will need to apply a minimum of 15 gallons of water per acre.
Wheat producers should consider making a fertilizer application as soon as soil temperatures increase. Between February 15 and March 15 the wheat will reach a stage of growth where nutrients and water uptake will increase significantly. If producers intend to get the most from the dollars invested on fertilizer they need to apply nutrients soon. Soil nutrient levels will need to be at a high level when the formation of the head occurs (shortly before rapid spring growth begins). If the head can be found above the soil surface the producer has lost the opportunity to impact the number of spikelets per head and the number of seeds per spikelet.
Cotton
The cotton producers that like to plant in marginal soil temperatures should plant cottonseed with a cool-warm vigor index above 155. Most of the major seed companies conduct both the cool germination test and the warm germination test on every seed lot that they have. Producers can request a copy of that information and by combining the numbers obtained from both tests determine the cool-warm vigor index for the seed lot. Only those varieties with a high vigor index should be planted when cool soil temperatures exist at planting time.
Linked is the yield and quality results from cotton variety tests conducted in 2007. As soon as complete reports are available they will be posted. Due to the growing conditions in 2007, fiber length and strength in most tests are very impressive.
There are a lot of winter weeds starting to emerge on land that is to be planted to cotton this spring. The winter weeds are using valuable soil moisture that should be reserved for the cotton crop to be planted. Since we have more than 60 days before planting, several different herbicides can be considered. You need to determine what kind of weeds you have and make sure that they are listed on the herbicide label. The least expensive broadleaf control herbicide is 2,4-D and it will eliminate a wide range of weeds. If the maximum daytime air temperatures are cool then the Ester formulation should be used. If you are concerned about other weeds that may emerge prior to planting you may want to include a herbicide that is soil active for a short period of time. Special consideration should be given to the crop that is going to be planted; use only approved herbicides and rates. Tests were conducted in 2002 and 2003 on controlling winter weeds; the links to the studies are (http://sanangelo.tamu.edu/agronomy/newsltr/weed02a.htm) and (http://sanangelo.tamu.edu/agronomy/newsltr/weed05.htm). The herbicides listed in the last table in each report is linked to a picture of that treatment in the test.
Grain and Forage Sorghum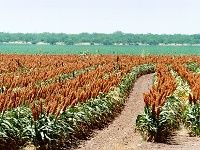 It is time to request Corn, Grain Sorghum and Forage Sorghum seed for 2008 result demonstrations. If you need additional information about the varieties and hybrids available, I have compiled a list of company web sites and the URL is: http://sanangelo.tamu.edu/agronomy/newsltr/company.htm. Companies need to be contacted in the near future to acquire the seed you need for testing.
Sesame
The current contract on Sesame is $0.25 to $0.27 per pound. Contracts will be offered to previous growers first and then opened up to other growers if additional acreage is needed. For information about sesame production refer to the following URL. http://sanangelo.tamu.edu/agronomy/factshet/sesame.htm.
Pesticide Recertification Training
There will be five CEUs offered at the forage production meeting held in Cross Plains on February 5. For more information on the meeting call Robert Pritz at (325) 854-5835.

CEUs will be available at the West Texas Farm, Ranch and Wildlife Show held February 19 & 20, 2008 at Abilene, Texas. A pesticide applicator can earn CEUs throughout the day. Just have them call the Taylor County Extension Office at (325) 672-6048 for more information.

Don't forget that your TDA pesticide applicators license will expire the end of February. If you have not gotten your paperwork for renewal you may want to contact the TDA.
Monthly Calendar
February
February 4, District Office, Office Conference
February 5, Callahan County, Forage Seminar
February 12 & 13, El Paso County, Cotton Production Meeting
February 19 & 20, Taylor County, West Texas Farm and Ranch Show
February 21, San Saba County, Pasture Management Meeting
February 21, Burnet County, Plant Growth and Development Presentation
March
March 3, District 7 Office, Office Conference
March 12, Llano County, Master Gardener Program
March 20, Runnels County, Ag Day
March 25, District 7 Office, Brand Master Training
March 26, Nolan County, Lower Rolling Plains Crop Production Conference
March 28, Brown County, Multi-County Ag Day
Sincerely,


Billy E. Warrick, Ph.D.
Professor and Extension Agronomist
Texas AgriLife Extension Service
Texas A&M University System