April 1, 2002

Wheat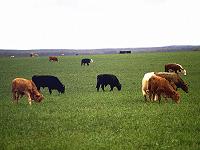 Freeze injury will become more apparent as producers evaluate their fields prior to making a fertilizer application. Temperatures the first week of March was cold with three night temperatures below 25 degrees (monthly summary for Abilene and San Angelo). Some of the ungrazed early planted wheat fields were injured. Also, some of the late planted wheat that was seeded in loose soil was injured. The cold nighttime temperature on March 22 may have caused some additional injury. Producers may want to consider grazing out the wheat or cutting it for wheat hay, if injury was significant. Cutting the wheat prior to heading should provide quality hay for feeding to livestock. If you are unfamiliar with freeze injury in wheat feel free to tap into the factsheet on the San Angelo server. The URL is http://sanangelo.tamu.edu/agronomy/wheat/whtfreez.htm.
Very few result demonstrations will be harvested this year. For those that need to thrash samples let me know and I will have our machine serviced and ready to process samples. For those producers with thin stands of wheat intending to plant into residue, an application of Roundup Ultra Max (10 to 14 ounces) does a good job. Any of the glyphosates can be used to terminate the wheat, however, check the replant guarantee extended by the various companies. Contact herbicides can be used, however, producers need to increase the gallons of water applied per acre to get complete coverage of the wheat and weeds.
Cotton
Acquiring seed for the variety tests for Districts 6 & 7 is near completion. A copy of the various tests is available for your review (Just Click Here). The testing of Roundup Ready cotton should demonstrate how and when to apply Roundup, determine the weed species that can be controlled or suppressed, and determine the economic impact that occurred from controlling the weeds.
A number of producers have indicated that they planned to plant early this year. Remind them that the minimum soil temperature for planting cotton is a 10 day average of 60 degrees F at an eight inch soil depth (take temperature at 8:00 a.m.). When soil temperatures are 65 to 70 degrees F the cottonseed germinates and emerges quicker which helps to reduce the amount of time emerging seedlings are exposed to soil diseases. If cotton is planted at the minimum soil temperature and then watered, you will probably have a reduction in the final plant stand and health of the crop.
From result demonstrations conducted in Nolan and Mitchell Counties over a five year period, the ideal planting rate is 4 to 5 seeds per foot with a final plant stand of 3 to 4 plants per foot. This is true for both dryland and irrigated cotton. If producers use plated planters with the small seeded varieties that are available, they will need to change to 48-cell plates to reduce the number of double drops. Two seeds adjacent to one another is only beneficial when breaking through a crust after that time they are in direct competition with one another for sunlight, water, and nutrients.
Pesticide Recertification Training
On Monday, April 8, there will be a training conducted at Abilene for producers needing to obtain a Private Applicators License. For more details and to register for the meeting call Gary Bomar at (915) 672-6048.

An Agricultural Waste Pesticide Collection Event has been scheduled for April 15, 2002 at Ballinger. The pesticides will be collected at the City of Ballinger Recycling Center (from Hwy 67, turn south on Hwy 83, go two blocks, located on east side). Collection of materials will be from 8:00 a.m. to 1:00 p.m. The TNRCC contact person is Ronnie R. May 512/239-4749, site contact persons are Tommy New 915/365-3511 or Tom Guthrie 915/365-2219. For more information go to the TNRCC Website.
Monthly Calendar
April
April 1, Dist. 7 Headquarters, Office Conference
April 2, Nolan County, Multi-County Cotton Conference
April 3, Jones County, Ag Committee Meeting
April 4, Callahan County, Multi-County Forage Field Day
April 6, Tom Green County, Christmas in April
April 8 & 9, Blanco County, Agent Training for District 10
April 11, Glasscock County, District 6 Ag Planning Meeting (teleconference)
April 15, Runnels County, Agricultural Waste Pesticide Collection
April 16, Schleicher County, Forage, Fertilizer, and General Crop Management
April 19, Taylor County, Wheat Task Force Meeting
April 22 &23, Llano/Burnet Counties, District 6 Agents Training
April 24 & 25, Brazos County, New Faculty Orientation
April 27, Ward County, Multi-County Forage Production Meeting
May
May 1, Tom Green, District 7 4-H Roundup
May 6, Dist. 7 Headquarters, Office Conference
May 7 & 8, Brown County Professional Board Meeting
May 9, Brown County Natural Resources Day
May 10, Taylor/Callahan Counties, Wheat Tour
May 14, McCulloch/Concho Counties, Wheat Tour
May 15, Coleman County, Wheat Tour
May 17, Brown County, Reestablishing Forages--Brown Co. Ag Day
May 23, Runnels County, Wheat Tour
Sincerely,


Billy E. Warrick
Extension Agronomist
Texas Cooperative Extension
Texas A&M University System