March 3, 2006



Wheat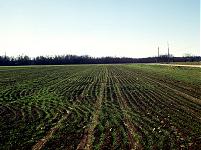 What a year for wheat! Whether it was planted in October or January, it finally germinated and emerged in February. The chance is slim to none that it will make grain. The next big problem is, what to do? You could: 1) Let it make forage for grazing; 2) Allow the plant to mature enough to get structure and then terminate it and use the residue for protective cover from wind and water erosion; 3) Use it as a green crop and plow it under; 4) Terminate it now and keep it from using all the existing soil moisture; or 5) Let it continue to develop until it dies from a number of different factors. Our environmental challenges ares the reason we have some of the best producers anywhere.

Even though most areas didn't get much rain in February, it was probably enough to get the weeds germinated. If we do not kill the weeds they will establish and extract the moisture and nutrients from the soil before we have the summer crops planted. Improved pastures will have the same problem, so land operators will need to evaluate the weeds while they are small and make sure that they are not raising a thistle crop.

Producers intending to control broadleaf weeds are out of time on the early planted wheat. Much of the acreage has already started to joint and would be impacted by many of the herbicides available. For the later planted wheat, the main considerations in herbicide selection are the haying, grazing, and crop rotation restrictions. Producers will need to read and follow the label directions closely. The grazing and haying restrictions may impact producers that have to harvest this crop as hay instead of grain.

Unless something changes soon there will not be a wild oat control demonstration established this month. Environmental conditions were not favorable for germination and emergence of the weeds.
Cotton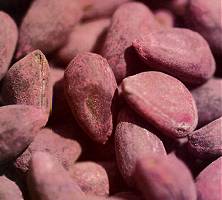 I'm working on the variety tests for Districts 6 & 7 and should have a rough copy for your review in the near future. The testing of Roundup Ready cotton should demonstrate how and when to apply Roundup, determine the weed species that can be controlled or suppressed, and determine the economic impact that occurred from controlling the weeds. If you forgot to request seed for your county variety test(s), you are about out of time. Seed requests are being made now.
The results of the cotton variety tests conducted during 2005 can be viewed by clicking here.
I am hearing a cautious note in a number of producers questions. They are asking how to produce a healthy crop with the least amount of financial risk. The first thing I would suggest is to take a soil test. We need to see how much available nitrogen is in the soil. If a producer has 20 pounds of available nitrogen in the upper 6 inches of soil this will meet the cottons need until the one-third grown square stage. By that time, the producer should know if an adequate crop is established and growing and what the soil moisture situation is. The producer can then side-dress the crop using a chisel rig or wait until bloom and apply nitrogen using foliar applications. The soil applied fertilizer is less expensive than a foliar program, but soil applied nitrogen should be completed by the time the first squares are one-third grown. The cotton plant roots need to have time to recover from the fertilizer application before the plant begins to bloom. At bloom the plant will be removing a large amount of water and nutrients from the soil and a healthy root system is critical. In addition to nutrient management the producer will need to manage soil moisture closely. Producers should go ahead and bed up and establish furrow dikes now on their cropping acreage to retain any rainfall received. Increased lint and seed production is expected from each inch of soil moisture saved.
From result demonstrations conducted in Nolan and Mitchell Counties over a five year period, the ideal planting rate is 4 to 5 seeds per foot with a final plant stand of 3 to 4 plants per foot. This is true for both dryland and irrigated cotton. With the technology fee being charged for Roundup Flex and/or Bollgard producers will be tempted to plant the cotton at 3 seed per foot and hope for an average of 2 plants per foot. This lower plant population will result in some structural changes to the cotton plant and some of them are not beneficial.
The AgriPlex Ag Day will be held on March 15 at the Ballinger High School. The conference has a number of excellent speakers. Attached is a copy of the agenda.
Weeds and Weed ID
With the soil moisture received in February we can expect some weed emergence. Some web sites you will find helpful in identifying these weeds are:

To identify broadleaf seedlings place your pointer over the picture and it will tell you what it is. This is a large file and takes a while to load all the pictures. Click here to begin.
The Texas Weed Information Group web site has a number of images and links to help identify weeds. Click here to visit TWIG.
A good publication for basic information in weed identification try Dr. Paul Baumann's publication "Weed Identification: Using Plant Structures as a Key". Click here to review the PDF.
Tommy Yeater came by and made some suggestions on improving a weed information CD that is being developed. The request that took the longest to address was how to determine what herbicides could be used to control the weed after it was identified. I found a database of herbicides housed by CDMS that has 125 companies working to keep it current. The URL is http://premier.cdms.net/webapls. You can search for a specific weed in a specific crop and find the labeled products available for use in Texas. As an example--I asked what herbicides were labeled for Palmer Amaranth control in cotton. Click here for answer. The only problem is that it costs $100 per year. Since I get those requests often it was worth it for me to subscribe. If you need assistance of this nature let me know.
Grain and Forage Sorghum
Some of the counties have indicated that they plan to establish variety tests. Most of the seed will be obtained from local seed dealers. Some important considerations are: 1) make sure that all hybrids are in the same maturity group, 2) if a plated planter is used, make sure that all the seeds are close to the same size (number of seed per pound), 3) establish the test after favorable environmental conditions are reached. For a listing of company information on grain sorghum varieties refer to http://sanangelo.tamu.edu/agronomy/newsltr/company.htm. Companies need to be contacted in the near future to acquire the seed you need for testing.
If we don't get rain until late April we may see some of the grain sorghum acreage switch over to cotton.
Charles Stichler provided the most recent comment on Bioterrorism requirements for hay producers. "I called and talked to the FDA administrator in San Antonio - he laughed when I mentioned that a hay producer had to keep track of all his hay. He indicated that all they are talking about is documentation like a receipt book that shows who bought the hay and how much was purchased. There is no requirement of hay producers to keep track of all the bales, and where they go. He is double checking to see if there is anything else, but suspects that there isn't".
Pesticide Recertification Training
On Monday, March 13 there will be a training conducted in Abilene for producers needing to obtain a Private Applicators License. For more details and to register for the meeting call Gary Bomar at (325) 672-6048
If you have a training where CEUs are offered please let me know.
Monthly Calendar
March
March 8 - 10, El Paso County, Cotton Production Meeting
March 15, Runnels County, AgriPlex Ag Day
March 17, Tom Green County, Professional Ag Workers
March 20, Faculty Meeting, Soil and Crop Sciences Dept.
March 28, Tom Green County, Native Plant Society Meeting
March 30, Burnet County, Plant Growth and Development Training
March 31, Brown County, Forage Production Meeting

April

April 3, District Office, Office Conference
April 4, Nolan County, Multi-County Cotton Production Meeting
April 5, Howard County, Multi-County Cotton Production Meeting
April 6, Jones County, Multi-County Cotton Production Meeting
April 11, San Saba County, Multi-County Pasture and Annual Forage Meeting
April 13, Taylor County, Soil and Soil Fertility Meeting
Sincerely,


Billy E. Warrick
Professor and Extension Agronomist
Texas Cooperative Extension
Texas A&M University System