March 1, 2007



Wheat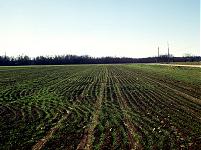 Wheat producers should consider making a fertilizer application soon. The cool temperatures this winter have slowed the development of the crop by about two weeks. If the head can be found above the soil surface, the producer has lost the opportunity to impact the number of spikelets per head and the number of seeds per spikelet.

In some wheat fields, Wild oats are just now reaching the three-leaf growth stage. At this stage, the Wild oat plants can still be controlled with several herbicides that are available. The three weed control products that don't have a grazing restriction are Puma, Finesse Grass and Broadleaf and Osprey. We should have at least two weeks remaining for the application of these herbicides to control Wild Oats. It will be important that the following conditions exist to get the best possible control using Puma: 1) check the weather forecast and make sure that night time temperatures will be above 40 degrees for two days prior and following the application, and 2) have adequate soil moisture at the time of application. Preferably, producers will apply the herbicide using 20 gallons of water per acre. A Wild Oat control test was established in Runnels County on February 28.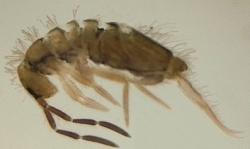 Robert Scott from Erath County asked about Springtail insects in Barley. Springtails are minute, usually black, and have the ability to hop. Many times they are mistaken for fleas because of their leaping ability. They don't have jumping legs like fleas or grasshoppers; rather they use a tail-like appendage to hop. This appendage, called a furcula, folds underneath the body, hooks under a catch to build up energy, and then is released, causing the springtail to hop. For more information refer to http://insects.tamu.edu/fieldguide/aimg1.html
Cotton
Linked is the agenda for the cotton production conference to be held at San Angelo on March 21, 2007. There are a number of specialists from across the state involved in this activity. The information provided at this meeting will be useful to producers and Extension agents in cotton producing counties.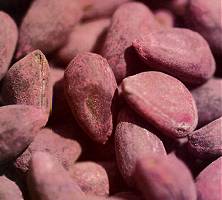 I am currently requesting cottonseed for variety demonstrations to be established in 2007. As soon as I have the list complete I will forward it to you. If you were intending to request some cottonseed for tests in your county please do so now.
The results of the cotton variety tests conducted during 2006 can be viewed by clicking here.
From result demonstrations conducted in Nolan and Mitchell Counties over a five year period, the ideal planting rate is 4 to 5 seeds per foot with a final plant stand of 3 to 4 plants per foot. This is true for both dryland and irrigated cotton. With the technology fee being charged for Roundup Flex and/or Bollgard, producers will be tempted to plant the cotton at 3 seed per foot and hope for an average of 2 plants per foot. This lower plant population will result in some structural changes to the cotton plant and some of them are not beneficial.
The minimum soil temperature for planting cotton is a 10 day average of 60o F at an eight inch soil depth (take temperature at 8:00 a.m.). When soil temperatures are 65 to 70o F the cottonseed germinates and emerges quicker which helps to reduce the amount of time emerging seedlings are exposed to soil diseases. If cotton is planted at the minimum soil temperature and then watered, you will probably have a reduction in the final plant stand and health of the crop.
Tom Isakeit (Professor and Extension Plant Pathologist, Texas A&M University, College Station) sent out a factsheet entitled "Is Biological Control of Cotton Root Rot Possible?" It helps to answer the question concerning Actinovate, this product is being sold aggressively in several areas of the state. I think the information speaks for itself. [Linked factsheet]
Weeds and Weed ID
Weed emergence has been slow but it is occurring. Some web sites you will find helpful in identifying these weeds are:

To identify broadleaf seedlings place your pointer over the picture and it will tell you what it is. This is a large file and it takes a while to load all the pictures. Click here to begin.
The Texas Weed Information Group web site has a number of images and links to help identify weeds. Click here to visit TWIG.
A good publication for basic information in weed identification is Dr. Paul Baumann's publication "Weed Identification: Using Plant Structures as a Key". Click here to review the PDF.
CDMS has a database of herbicides that is kept current by 125 companies. The URL is http://premier.cdms.net/webapls. You can search for a specific weed in a specific crop and find the labeled products available for use in Texas. As an example--I asked what herbicides were labeled for Palmer Amaranth control in cotton. Click here for answer. The only problem is that it costs $100 per year. Since I get those requests often it was worth it for me to subscribe. If you need assistance of this nature let me know.
Grain and Forage Sorghum
Some of the counties have indicated that they plan to establish variety tests. Most of the seed will be obtained from local seed dealers. Some important considerations are: 1) make sure that all hybrids are in the same maturity group, 2) if a plated planter is used, make sure that all the seeds are close to the same size (number of seed per pound), 3) establish the test after favorable environmental conditions are reached. For a listing of company information on grain sorghum varieties refer to http://sanangelo.tamu.edu/agronomy/newsltr/company.htm. Companies need to be contacted in the near future to acquire the seed you need for testing.
Pesticide Recertification Training
On Monday March 12, there will be a training conducted at Abilene for producers needing to obtain a Private Applicators License. For more details and to register for the meeting call Gary Bomar at (325) 672-6048.
On Tuesday March 20, there will be a training conducted at Pecos for producers needing to obtain a Private Applicators License. For more details and to register for the meeting call Tommy Dominguez at (432) 447-9041.
On Wednesday March 21, TDA Pesticide Applicators can earn CEUs by attending the Concho Valley Cotton Conference in San Angelo. Attached is the agenda and contact information.
If you submitted the correct paperwork, then you should have your 2007 TDA Non-Commercial Pesticide License. If you have not received it then call TDA (1-877-542-2474) and find out why.
Agricultural Waste Pesticide Collections have been scheduled for 2007. To find out more about the 2007 collection site go to: http://www.tceq.state.tx.us/assistance/AgWaste/schedule.html
If you have a training where CEUs are offered please let me know.
Monthly Calendar
March
March 2, Runnels County, Establish Weed Control Test
March 5, District Office, Office Conference
March 14, Llano County, Plant Growth and Development
March 21, Tom Green County, Concho Valley Cotton Conference
March 21, Tom Green County, Southern Rolling Plains Cotton Growers Meeting
March 22, Brown County, Ag Day
March 28, Midland/Ector County, Weed ID and Control
March 29, Tom Green County, BioEnergy Training

April

April 2, District Office, Office Conference
April 3 & 4, Taylor County, Small Grains Training--Level II
April 11, Nolan County, Lower Rolling Plains Ag Conference
April 18, District Office, Teleconference
April 19 - 26, Crystal City, Virginia--Public Issues and Leadership Development Conference
Sincerely,


Billy E. Warrick, Ph.D.
Professor and Extension Agronomist
Texas Cooperative Extension
Texas A&M University System