Texas Agricultural Extension Service
Texas A&M University System
April 30, 2001



Wheat
Last month's newsletter covered leaf and stem rust problems. Several counties had problems with stripe rust, however, as the temperatures increased and the humidity decreased, the threat of stripe rust outbreaks were reduced. Shown here are some pictures of stripe rust taken by Travis Miller.


Many producers choose not to invest in fungicides and baled the crop instead. Forage production on some acreage was very impressive.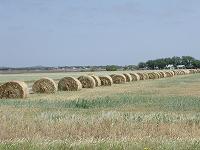 The main problem being encountered by producers at this time is weed control in wheat to be harvested for grain. Some of the weeds rapidly growing at this time include:
| Common Sunflower | Kochia | Texas Purple Thistle |
| --- | --- | --- |
Products that can be used as wheat harvest aids include:
Product name
Company
Use Rates
Per Acre
Chemical Cost
Per Acre
Comments
2,4-D
Many
1 to 3 pints
$2.70 to $7.50
Apply after the hard dough stage. Refer to label on grazing restictions and feeding straw.
Glyphosate
Many
16 to 32 ounces
$5.00 to 10.00
Apply after the hard dough stage of grain (30 percent or less grain moisture) and at least seven days prior to grain harvest. CAUTION: Do not apply to wheat grown for seed as a reduction in germination and vigor may occur.
Ally
DuPont
0.10 ounce
$2.70 to $3.25
Used in a tank mix with 2,4-D or Glyphosate to improve the desiccation and kill of the weeds treated.


NOTE: Be sure to follow label directions!
Cotton
Cotton planting has begun with the soil temperature already above 65 degrees for a 10 day average on April 31. Several producers have commented that the cotton is slow about coming up and growing. The main reason for this is lower soil and air temperature compared to a normal planting date the third week in May. In many fields the emergence time has been 10 to 14 days.

The annual cotton insect scout school will be held June 4, 2001 at the Texas A&M Research and Extension Center at San Angelo. If you would like to travel to Uvalde, Texas to fine-tune your scouting skills, please contact Rick Minzenmayer at (915) 365-5212. If you or your producers are planning to attend please pre-register with Rick before coming.
Weeds and Weed ID
Shown are six weeds that are developing in cropland and barditiches at this time.
Pesticide Recertification Training
On Monday, May 14, there will be a training conducted at Abilene for producers needing to obtain a Private Applicators License. For more details and to register for the meeting call Gary Bomar at (915) 672-6048.
If you have a training where CEUs are offered please let me know.
Monthly Calendar
May
May 4, Taylor & Callahan County, Multi-County Wheat Tour
May 5, ASU Campus, District 7 4-H Roundup
May 7, District Office, Office Conference
May 7, Brown County, Natural Resources Field Day
May 8 & 9, Brown County, Professional Association Board Meetings
May 10, Coleman County, Wheat Tour
May 11, McCulloch & Concho County, Multi-County Wheat Tour
May 18, Tom Green County, Professional Ag Workers
May 22, District Office, Web Training
May 24, Runnels County, Wheat Tour
May 25, Tom Green County, My Daughter Graduates High School
May 28, Holiday
May 29 - 31 Burnet County, District 7 TCAAA Meeting
June
June 4, District Office, Office Conference
June 4, Tom Green County, Insect Scout Training School
June 6, Tom Green County, Farm and Ranch Safety School
June 11 - 15, Brazos County, State 4-H Roundup
June 18 - 20, Brazos County, Annual Leave
Sincerely,


Billy E. Warrick
Extension Agronomist
Texas Agricultural Extension Service
Texas A&M University System