April 1, 2008



Wheat
Very few result demonstrations will be hand harvested this year. For those that need to thrash samples let me know and I will have our machine serviced and ready to process samples.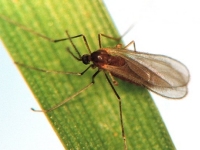 For those producers with thin stands of wheat intending to plant into residue, an application of glyphosate at 12 to 16 ounces per acre will do a good job of killing the wheat. Contact herbicides can be used, however, producers need to increase the gallons of water applied per acre to get complete coverage of the wheat and weeds.
Rick Minzenmayer called and let me know that he had found Hessian Fly in wheat on March 28. He also indicated that Wheat Streak Mosaic Virus was found in several fields that were planted next to volunteer wheat. For information on Hessian Fly and Wheat Diseases you can reference your wheat production CD. The Hessian Fly information is linked to "Insect Identification and Control" and the Wheat Disease information is linked to "Disease Information".
Cotton
Cottonseed for variety tests have been ordered. Cottonseed for Howard, Jones, and Nolan Counties will be delivered to the Texas AgriLife Research and Extension Center at San Angelo before the end of April. A copy of the cotton variety tests for District 7 is attached.

If your producers want to plant year this year remind them that the minimum soil temperature for planting cotton is a 10 day average of 60o F at an eight inch soil depth (take temperature at 8:00 a.m.). When soil temperatures are 65 to 70o F the cottonseed germinates and emerges quicker which helps to reduce the amount of time emerging seedlings are exposed to soil diseases. If cotton is planted at the minimum soil temperature and then watered, you will probably have a reduction in the final plant stand and health of the crop.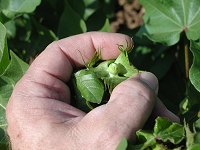 One question most producers have on their mind is how much to invest in fertilizer? When fertilizer costs are high, a soil test is a dirt cheap investment. You need to have at least 10 parts per million nitrogen in the top six inches of soil. This is enough nitrogen to get to one-third grown square stage. By then you will know what your final plant population is and the soil moisture availability. A fertilizer application needs to be applied just prior to the one-third grown square stage to allow roots to re-establish before the demand for water and nutrients reach their peak. If you go to the trouble to pull soil samples down to 36 inches you will know what is available and avoid the possibility of the crop having a nitrogen shortage.
Several years ago a test was conducted to determine what herbicide to use to kill the weeds prior to planting a crop. Linked is a copy of the report from the weed control test conducted in Reagan County. Don't forget to tour the plot--the underlined texted in Table 2 are active links to pictures taken on the day of evaluation (you are standing in the center of a four row test plot). As you can see several of the treatments worked well. You just have to allow enough time between when the herbicide was applied and when you plant the crop. The real value in using herbicides over plowing is the soil moisture saved. For every inch of water saved their is usually a yield increase of 35 pounds of lint.
Pesticide Recertification Training
On Monday, April 14, there will be a training conducted at Abilene for producers needing to obtain a Private Applicators License. For more details and to register for the meeting call (325) 672-6048.
Insect Scout School
The annual cotton insect scout school will be held June 2 & 3, 2008 at the Texas AgriLife Research and Extension Center at San Angelo. If you would like to travel to south Texas to fine-tune your scouting skills, please contact Rick Minzenmayer at (325) 365-5212.
Monthly Calendar
April
April 1, Tom Green County, West Region Cropping System Team Meeting
April 2, Tom Green County, Establish Weed Control Test
April 7, District Office, Office Conference
April 8, Nolan County, Weed ID and Control for Small Land Owners
April 26, Tom Green County, Christmas in April
April 30, District Office, Performance Review Co. Ag Day
May
May 2, Taylor, Callahan, and Shackleford Counties, Wheat Tour
May 2, Callahan County, Wheat Symposium Planning Meeting
May 3, Tom Green County, District 7 4-H Roundup
May 5, Brown County, Natural Resources Day
May 6, Concho and McCulloch County, Wheat Meeting and Tour
May 7 & 8, Brown County, Extension Professionals Board Meeting
May 21 - 23, Burnet County, District 7 TCAAA Meeting
Sincerely,


Billy E. Warrick, Ph.D.
Professor and Extension Agronomist
Texas AgriLife Extension Service
Texas A&M System