May 31, 2002

Cotton
Cotton planting is challenging this year due to the marginal moisture combined with high temperatures, winds and low humidity. The big problem is retaining enough soil moisture for germination and seedling development. The hot, dry winds are causing the soil to dry out quicker than expected. So plant populations have been lower than anticipated. The plant population can be as low as two plants per foot without reducing yield, as long as the plant spacing is uniform and the number of skips are limited. It is not uncommon to see numerous skips in acreage that had limited soil moisture at the time of planting.
Matching up insurance and FSA office requirements in regards to planting and establishing this dryland cotton crop will be important. The counties last planting date will have to be considered. Lets say the last acceptable planting date is June 20, the producer that has poor soil moisture would want to wait until shortly before this date and plant. The producer has done what he can do to get a crop, the land was prepared correctly, planted to establish a stand, but the lack of moisture limited the opportunity to make a crop. If a rain happens to occur that was adequate enough to get germination but not enough to continue plant development, then it was planted correctly but since the last planting date is now past; the producer won't be required to replant. So match up both sides and follow the rules. Hopefully, we will get a rain and make a good crop--everyone benefits from that.
Grain Sorghum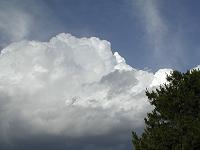 Late in May, several counties received hail damage on grain sorghum and corn. Information on that topic is available in the factsheet "Assessing Hail and Freeze Damage to Field Corn and Sorghum (B-6014)".
Grain sorghum plants that were in the seven- to ten-leaf stage (depending on maturity group) will have to be evaluated closely. If the growing point was injured then a yield loss is a strong possibility. If the plants lost all of their leaf surface then it will have to be regenerated and this loss of time will probably result in yield loss also. The developing plant will have to contend with pollination during the hot and dry period of the summer and insect pressure generally is higher.
Wheat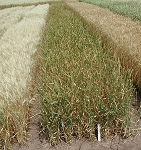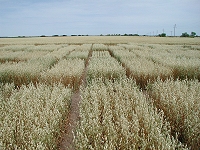 A few of the wheat and oat tests made it to harvest this year. Counties with wheat plots remaining include: Callahan, Coleman, Concho, Jones, McCulloch and Runnels. Just let me know when you want to thrash the hand harvested samples. If there are other counties that need to process samples, please let me know as soon as possible.

The wheat variety information is updated each year to reflect changes in disease and insect ratings in our region. A copy of this information is now posted at the following URL http://sanangelo.tamu.edu/agronomy/wheat/wht2002.htm.
Forage Production Information
The information covered at the CEA training on April 27 is now posted and available for your use in answering questions; the URL is http://sanangelo.tamu.edu/agronomy/forages/index.htm.
Weed Identification
Shown are nine weeds that are developing in cropland and barditches at this time.
Pesticide Recertification Training
On June 10, there will be a training conducted at Abilene for producers needing to obtain a Private Applicators license. For more details and to register for the meeting call Gary Bomar at (915) 672-6048.
Insect Scout School
The annual cotton insect scout school will be held June 3, 2002 at the Texas A&M Research and Extension Center at San Angelo. If you would like to travel to south Texas to fine-tune your scouting skills, please contact Rick Minzenmayer at (915) 365-5212.
Monthly Calendar
June
June 3, Dist. 7 Headquarters, Insect Scout School
June 10 - 12, Brazos County, State 4-H Roundup
June 18, Tom Green County, West Texas Dryland Institute Tour
June 21, Tom Green County, Professional Ag Workers
June 27, Runnels County, Conservation Tillage Tour
July

July 1, District 7 Office, Office Conference

July 2, Burnett County, Pesticide Training

July 7 - 10, Nacogdoches County, TCAAA State Meeting

July 15 & 16, Travis County, Texas 4-H Foundation Meeting

July 19, Tom Green County, Professional Ag Workers

July 28 - 30, Bexar County, TAEXSA State Meeting



Sincerely,


Billy E. Warrick
Extension Agronomist
Texas Cooperative Extension
Texas A&M University System