May 5, 2007



Wheat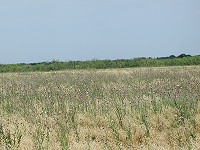 Lack of soil applied herbicides, herbicides applied later than recommended, flushes of weeds emerging after herbicides were applied, poor weed control, and favorable weather conditions promoting weed growth have resulted in several weedy small grain fields. Producers may be asking about harvest aids to use to burn down these weeds prior to harvesting the crop. Linked is information to assist you in answering those questions. Be sure to read and follow the label directions.

The harvest of wheat will soon begin. As you harvest samples from variety tests, please record the information on the foot of drill row(s) harvested and the number of inches from drill row to drill row. I will need this information to calculate the yield per acre. The thrasher is located at the Research and Extension Center at San Angelo. You may want to team up with another county to thrash samples. It takes at least two people to do the job efficiently. After the thrashing of grain is complete, the grain weights can then be entered into a spreadsheet and the information you want determined. Also, at the time of harvest you may want to get the production information from your demonstration cooperator.

Producers that are keeping seed for planting purposes next year need to closely inspect the acreage being harvested. If weeds or diseases are a problem, they will need to have the seed cleaned, bagged and treated with the appropriate fungicide. Be sure to review the laws concerning seed being saved for planting. Producers can find themselves in trouble due to the Plant Variety Protection Act (attached is information on the topic).

Nolan and Haskell Counties have been added to the list of counties with Hessian Fly. For the counties that have Hessian Fly, you may want to let producers know of cultural practices they can use to reduce the population of the insect pest: 1) Don't spread the problem--be sure that harvesters are clean before they leave the field. 2) Turn the residue under, 9 or more inches is needed. 3) Planting wheat after November 1 helps reduce the problem. 4) Select resistant varieties to plant next season. Linked is a list from 2006 that gives a rating of the resistance of wheat varieties to Hessian Fly, Leaf Rust, and Stem Rust. This information will be updated as we evaluate wheat plots in May. NOTE: The heat of a controlled burn is not hot enough to kill the insect at or below the soil surface. Burning wheat stubble would only get rid of the organic mater--not the insect.

I have had reports of several fields with loose smut problems in wheat and oats. Producers that are keeping seed for planting purposes next year need to closely inspect the acreage being harvested. If loose smut is a problem, they will have to have the seed cleaned and treated with the appropriate fungicide.
Cotton
There were a few changes in the tests being conducted from what was originally posted on last month's newsletter. Attached is an updated copy of the result demonstrations planned for 2007. Except for two FiberMax varieties and one Americot variety all of the seed for test plots in 2007 have been delivered. I want to thank Ed Bynum, Warren Multer, Rebel Royall, and Tommy Yeater for their assistance in obtaining, sorting, and distributing cottonseed for District 6 and 7 variety tests.
The attached sheet should assist you in getting the information that you need about the preparation and establishment of test plots (Rich Text Format). It can be saved to your hard drive and opened by most word processors.
The soil temperature this season has been close to average. The minimum temperature for planting cotton is a ten day average of 60 degrees F at the eight inch depth. This temperature is taken at 8:00 a.m. each day. Cotton planted in warm soil, usually germinates and emerges faster resulting in healthier plants. The weather stations located east of San Angelo, east of Rowena, and southwest of St. Lawerence records soil temperature and that information is posted on the web. The URLs are http://sanangelo.tamu.edu/weather/sjt/2007/, http://sanangelo.tamu.edu/weather/runnels/2007/, and http://sanangelo.tamu.edu/weather/glasscock/2007/ .
From all indications we better be ready for insect pressure this growing season. As the wheat dries down there will be a significant increase in thrip. The wild host plants growing in the ditch provide a good home for a number of insects.
What is the proper planting rate of cotton? The desired plant population for cotton is three emerged, uniformly spaced, and healthy plants per foot of row (on 40 inch rows). This results in a plant population of approximately 39,000 plants per acre. If the cottonseed only germinated 80 percent of what is planted then 49,000 seeds per acre needs to be planted. If the seed size is 5,600 seeds per pound, you would have to plant 8.76 pounds per acre to get the desired plant population. If you are planting into a firm seedbed with good soil moisture, then the proper seed placement should be from 1.5 to 2.0 inches. Be sure that the seed-to-soil contact is firm.
Insect Scout School
The annual cotton insect scout school will be held on June 4, 2007 at the Texas A&M Agricultural Research and Extension Center located north of San Angelo. Since most producers scout their own fields, they may want to attend this meeting. Anyone wanting to participate should contact Rick Minzenmayer at (325) 365-5212. Linked is a copy of the agenda.
Pesticide Recertification Training
On May 14, there will be a training conducted at Abilene for producers needing to obtain a Private Applicator's license. For more details and to register for the meeting call Gary Bomar at (325) 672-6048.
Forage Information
Due to the freeze damage in early April, several thousand acres of wheat were baled. To determine the livestock feed value of the hay, submit a forage sample to the Texas A&M lab. Some supplemental feeding may be necessary to maintain or increase the weight of livestock.
Grain Sorghum
By the time the grain sorghum reaches the eight-leaf stage the grain production potential for the crop has been determined. Prior to that stage all soil nutrient applications need to be made. By combining an adequate nutrient load with the favorable soil moisture we have the potential for a good yielding crop. We will still need timely rainfalls to get maximum yields, but at least we have a start. The cool temperatures probably impacted the root development of the grain sorghum. That problem won't become apparent until head emergence when nutrient and water requirements of the plant are very high. Once head differentiation is complete the use of 2,4-D needs to be terminated. The problem is that the label indicates that the material can be applied until the plants are 12 to 15 inches tall. That is a correct statement for grain sorghum that develops under unstressed conditions. Two problems that I have seen occur from a late application of 2,4-D is the grain set was drastically reduced (about 90% reduction). Also, brace root development was reduced and the percentage of lodged plants increased.
Monthly Calendar
May 2007

May 1 & 2, Extension Associations Board Meeting at Brownwood
May 4, Taylor and Callahan Counties, Wheat Tour
May 7, San Saba County, Pecan Field Day
May 8, Brown County, Natural Resources Day
May 8, Gillespie County, Wheat Field Day
May 9, Gillespie County, Forage Sorghum Turnrow Meeting
May 9, Brown County, District 7 TCAAA Meeting
May 15, Concho and McCulloch County, Wheat Field Day
May 17, Runnels County, Wheat Field Day
May 18, Tom Green County, Professional Ag Workers
May 22, Sutton County, Drift Minimization and Sprayer Calibration
May 28, Holiday

June 2007

June 4, District Office, Insect Scout School
June 15, Tom Green County, Professional Ag Workers
June 19, Glasscock County, Turnrow Meeting
June 20, Tom Green County, Farm and Ranch Safety School
Sincerely,


Billy E. Warrick
Professor and Extension Agronomist
Texas Cooperative Extension
Texas A&M University System