June 2, 2008



Wheat
The Big Country Wheat Conference is scheduled for August 19, 2008 in Abilene, Texas. There are a number of excellent speakers on the program and it will be worth your time and effort to attend. I will send you an agenda as soon as possible.
Wheat harvest has begun and producers that are keeping seed for planting purposes next year need to closely inspect the acreage being harvested. If weeds or diseases are a problem they will need to have the seed cleaned, bagged and treated with the appropriate fungicide.
Information from the Callahan County, Concho County, McCulloch County, Runnels County, and Taylor County wheat variety tests will be provided to you as soon as possible.
Cotton
Due to the dry conditions in early May the planting of cotton was delayed until the third week. The soil moisture in many areas is limited and rainfall will be needed throughout the season to keep the cotton developing. In fields where buster planters were used and the soil washed in on the young seedlings, the acreage will need to be aerated to get the soil air balance back in line. Most producers will use a rotary hoe or cultivator to accomplish this. The cotton plants development should be good due to the warm soil temperatures and warm daytime air temperatures. Linked are two information sheets on cotton growth and development that have been prepared for the insect scout school to be held June 2. It can be used to refresh your memory concerning cotton plant development and to assist you in answering producers questions. Cotton Plant Growth And Development and How A Cotton Plant Grows.
*********
In 2006 a problem develop in cotton that was related to the 100 degree temperatures received during the early stages of plant development. This is a reference just in case it happens again this year. Noted in the July 21, 2006 issue of Mississippi Crop Situation, Editor: Angus Catchot had the following write-up:
Dry, hot weather continues to plague the state and cotton yield potential is steadily decreasing in the non-irrigated cotton fields. Those that have caught timely showers are in good shape and the cotton is holding on. There are other areas that have not had significant rainfall since the first part of June that will be done if relief doesn't come soon.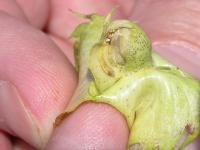 There have been a lot of phone calls and discussion regarding four bract squares. My counterparts in Arkansas, Louisiana and Tennessee have all reported on these to some extent in recent newsletters. These squares can have many appearances. In some instances there may be an extra fourth bract and in most cases it will be smaller than the other three. Some will have a malformed flower bud that appears to have a growth on one side. Others may have the bract fused to the flower bud. We see a few of these four bract squares every year. This season it seems that we are observing more than we ever have; in one field we counted 28% four bract squares. This phenomenon is not variety specific as we have observed them in many different varieties. It is not related to glyphosate drift or applications because four bract squares have been found in fields that were not treated with glyphosate. These squares are not the result from insect damage or feeding. These squares are generally more open because the bracts will not fully close around the bud due to the disfiguration. Because they are open, they appear flared and are very easy to spot. In most cases these squares will shed because they are malformed and will not flower and pollinate correctly. However, if the four bracts are the same size, the bracts will close over the square, in many cases, reducing the probability of shed. The majority of four bract squares has been observed in the younger cotton,15 to 17 nodes or less. These were observed when this cotton was in the early stages of bloom.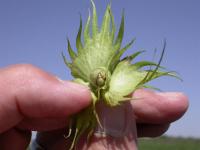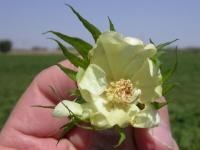 I talked extensively with Dr. Jack Mauney (retired USDA world-renowned cotton physiologist) about this topic to try and figure out exactly what is causing us to have a higher percentage of the four bract squares this season. The answer is not as clear-cut is we all want it to be, mostly because it involves Mother Nature. From visiting with Dr. Mauney I have concluded that there was a particular weather pattern when these four bract squares were developed in the terminal. They started as a whorl of leaves in the terminal and due to the environmental conditions being conducive for quick growth, at some point the plant became confused as to whether to grow leaves or fruit. At this point, the extra bract (modified leaf) was added and the four bract square was developed. The bracts on a square are modified leaves. When the plant gets "confused" as to whether to go vegetative or reproductive, the extra leaf or bract will be formed. Of course this is not noticeable until two to three weeks later by the naked eye. Environmental conditions such as warmer days and cooler nights (optimum for quick cotton growth and development) could be the cause. It is important to remember that once you see a four bract square, the cause happened two to three weeks before the observation. There is nothing we can do to keep these squares on the plant if they are set up to shed. However, the cotton plant will recover and begin to put on normal squares. A couple positions may be lost, but we can't hold and mature all the fruit anyway.
**************
Two other reference you may want this growing season are: Effects of Stand Loss and Skips on Cotton Yields and Making Replant Decisions.
On June 25 the Southern Rolling Plains Cotton Growers Association and the National Cotton Council will be holding a meeting at the Texas AgriLife Research and Extension Center at San Angelo. Anyone interested in finding out more information on the 2008 Farm Bill is encouraged to attend. Registration will begin at 9:30 a.m.
When the cotton reaches 1/3 grown square, side dress application of nitrogen should be discontinued. This should occur the last part of June or the first part of July on a large percentage of the acreage in our area. When that window of opportunity is past, producers will have to make foliar applications of nitrogen after the crop begins to bloom.
Forage Sorghum
Stressing annual forage sorghum in the five-leaf stage will result in a lower number of leaves being produced by the plant, even if rainfall is received later. This will result in lower quality hay due to the lower ratio of leaves to stem.
Grain Sorghum
If grain sorghum is stressed in the seven- to ten-leaf stage (depending on maturity group) the grain production potential is reduced. The reason for this reduction is because the sorghum plant is in the development period when the growing point differentiation occurs. Water stress at this time period will result in less grain being produced by each head. This cannot be corrected with rainfall received later. The only factor that can be influenced by rain after the number of grains per head is determined is the seed size.
We will get a lot of phone calls due to the numerous environmental problems that have impacted this crop. We have plants with 8 leaves that are only 10 inches tall. They are old enough for head differentiation to have occurred. Once we reach that point in plant development, the use of 2,4-D needs to be terminated. The problem is that the label indicates that the material can be applied until the plants are 12 to 15 inches tall. That is a correct statement for grain sorghum that develops under unstressed conditions. Two problems that I have seen occur from a late application of 2,4-D are: 1) the grain set was drastically reduced (about 90% reduction); and 2) brace root development was reduced and the percentage of lodged plants increased.
During May, several counties received hail damage on grain sorghum and corn. Information on that topic is available in the factsheet "Assessing Hail and Freeze Damage to Field Corn and Sorghum (B-6014)" http://sanangelo.tamu.edu/agronomy/sorghum/b6014.pdf.
Pesticide Recertification Training
There will be an Insect Scout School conducted June 2 at the Texas A&M AgriLife Research and Extension Center in San Angelo. This course will be good for 3 CEUs in IPM for TDA Pesticide Applicator License holders.
On June 9, there will be a training conducted at Abilene for producers needing to obtain a Private Applicators license. For more details and to register for the meeting call Robert Pritz at (325) 672-6048.
FYI (For Your Information)
Nutrient Calculator- One of the constant challenges with teaching proper nutrient application to homeowners with lawn, garden and flower beds has been getting the rate correct for the square footage to be treated. A nutrient calculator was developed by two Tom Green County Master Gardeners, Stephen Schkade (computer technician at the San Angelo Research Center), John Begnaud (Tom Green County Extension Horticulturist) and I. To try it out go to the following URL http://sanangelo.tamu.edu/agronomy/soil/nutr01.htm NOTE: I actually copied the nutr01.htm and vegnut.htm to a folder on my computer hard drive and then made a shortcut to the desktop. If someone is asking how much fertilizer to apply it makes it quick and easy for me to answer the question.
Reference Material- one of the better internet references for Pesticide Labels and MSDS sheets is http://www.cdms.net/manuf/manuf.asp
A good reference for weed ID is http://twig.tamu.edu it was developed by the Texas Weed Information Group. I had a question on controlling weeds in tanks and ponds and there is a good internet site for that information it is http://aquaplant.tamu.edu/, refer to "Management Options".
Monthly Calendar
June
June 2, District Office, Insect Scout School
June 12, San Saba County, Nitrate and Prussic Acid Meeting
June 17, Glasscock County, Turnrow Meeting
June 25, District Office, 2008 Farm Bill Information Meeting

July

July 2, District Office, Forage Training
July 4, Holiday
July 7, District 7 Extension Office, Office Conference
Sincerely,


Billy E. Warrick, Ph.D.
Professor and Extension Agronomist
Texas AgriLife Extension Service
Texas A&M System