June 30, 2004



Wheat
Coke, Concho, Runnels, and Tom Green Counties have thrashed their wheat samples collected from harvested variety tests. Taylor, Callahan, and Runnels Counties harvested their wheat plots with a small plot combine. Coleman and Jones Counties will be thrashing their samples in the near future. As the summaries from these tests are completed and copies received, they will be linked to the newsletter. Summaries are sent to the companies that provided seed for tests so they can determine which varieties preform best in each region. The companies that receive summaries early tend to support our programs favorably each year.
Linked are summaries from the Coke and Concho County Wheat Variety Tests.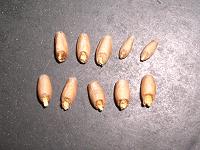 The rainfall in early-June was greatly appreciated. However, about a third of the wheat acreage had not been harvested and the wheat was impacted. Some grain was discolored and some initiated germination. If you examine the seed in the picture you can see that germination had begun. The seeds may still have a good germination but its vigor is in question. If this seed had to be planted I would make sure that the soil temperature was within range (it won't tolerate high or low temperatures very well) and soil moisture needs to be favorable. Avoiding plant stress at the time of planting and for the first seven days will be important to establish a stand.
August 19 is the date of the Big Country Wheat Conference that will be held at the Taylor County Extension Office in Abilene. The conference target audience is mid- to upper-level wheat producer. This meeting will be useful in increasing their knowledge and yours in wheat production and marketing. An agenda for this meeting will be sent to you in the near future. Make your plans now to attend.
Cotton
In the next two weeks most of the cotton planted the third week in May will reach the third grown square stage. At this growth stage, the uptake of moisture and nutrients increases sharply and will peak out when it reaches full bloom. Prior to 1/3 grown square, all side-dress nitrogen applications need to be made. The root system will need time to recover before reaching the stressful moisture and nutrient uptake period. Soil applied fertilizer applications made at first bloom or later usually results in yield reductions. A producer can foliar apply up to six pounds per week of actual nitrogen to the cotton after the crop begins to bloom. If soil nitrogen content is low then foliar applications of nitrogen should be made on a weekly basis if yield potential is high.
Cloudy weather (72 hours of continuous cloud cover) during the early stages of squaring, causes carbohydrate stress that results in the loss of the small squares. If the squares are in the one-third grown stage or older you usually don't see these positions lost. The same holds true for developing bolls, they are very sensitive to carbohydrate stress the first four days after bloom. The young bolls can be lost during the first 12 days after bloom. It is important to keep this in mind because the loss of fruit forms is not always due to insects.
Two of the 23 tests established this year have been lost due to weather conditions. If you loose a plot please let me know, seed company representatives often want to visit the tests during the summer.
Weed Control Information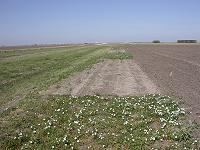 Linked is a final report on a Field Bindweed Control Test conducted in Nolan County

. The test was established last October and the plots were rated on May 19. A number of producers ask for this type of information. The cost per acre for the treatments used is shown for available herbicides. Caution producers to read and follow label directions before using any of the herbicides on their farm.
Grain Sorghum
If producers plant grain sorghum late, the application of nutrients should be made prior to the seven- to ten-leaf stage (depending on maturity group). Application at this time could increase the number of seed per head and the size of the seed. If nutrients are applied late, then seed size is the only variable of yield that can be increased.
Pesticide Recertification Training
On July 12, there will be a training conducted at Abilene for producers needing to obtain a Private Applicators License. For more details and to register for the meeting call Gary Bomar at (325) 672-6048.
Monthly Calendar
July
July 5, Holiday, Fourth of July
July 8, Runnels County, SRPCGA Conservation Tillage Tour
July 9, Nolan County, Second herbicide application
July 12, District 7 Office, Office Conference
July 13, Haskell County, Wheat Meeting
July 14, Tom Green County, Establish Test Plot
July 16, Tom Green County, Professional Ag Workers Meeting
July 22 & 23, Tom Green County, Western Region Data Summit – Agric.
July 25 - 28, Galveston County, Specialists Association Meeting

August

August 2, District 7 Office, Office Conference
August 9, Brown County, Small Grain Conference
August 10 & 11, Dallas County, Bayer Crop Science Meeting
August 19, Taylor County, Big Country Wheat Conference
August 20, Tom Green County, Professional Ag Workers
August 20, Burnet County, Small Grain Conference
Sincerely,


Billy E. Warrick
Extension Agronomist
Texas Cooperative Extension
Texas A&M University System