Texas Agricultural Extension Service
Texas A&M University System
August 31, 2000



Wheat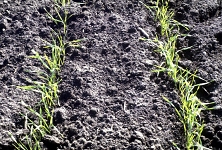 Coleman, McCulloch, Runnels, and Taylor Counties are the only counties that requested wheat seed for result demonstration tests. I will let you know as soon as the seed is ready to be picked up.
The Wheat Symposium held in Abilene on August 24 was well attended with over 220 producers from across the state. The agents in attendance from adjoining districts indicated that this was an excellent agent training meeting, all involved in planning are to be commended. I ditto that and every producer I talked to said thanks for putting this outstanding program together. I enjoyed the wide array of presentations made and increased my knowledge concerning the new wheat tolerant lines that will be available for purchase in 2002. The meeting was a great refresher course also. For instance: What is the inverted bell curve concerning the planting depth of wheat seed? Answer: Plant shallow (no more than 1.25 inches) in the hot portion of the Fall–plant to the depth of emergence (2 to 2.5 inches depending on variety) during the ideal planting period (October 15 to November 15)–plant shallow (no more than 1.25 inches) in late November and early December.
Some small grain tests that can be conducted include: 1) Land preparation and equipment modification for controlling planting depth; 2) Effect of planting date and rate on forage and grain production; 3) Determination of forage production in the Fall and in the Spring; 4) Timing and rate of nutrient application; 5) Disease ratings of wheat; 6) Weed control; 7) Note when dormancy breaks in each variety; 8) Pull off date for grazed wheat and its impact on grain yield; 9) Insect ratings; 10) comparison of certified wheat with standard wheat; and 11) Plant height, standability, test weight per bushel, moisture and grain yield.
Cotton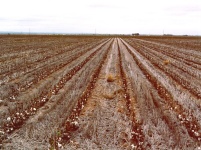 The crop is progressing rapidly. Plans are already underway to start terminating this crop. To prepare for the questions you will receive concerning harvest aids please take time to review the attached cotton harvest-aid recommendations for West Central Texas. This information is also available on the San Angelo Web Site. The URL for the specific document is http://sanangelo.tamu.edu/agronomy/harvest/index.htm
I have the following cotton meetings on my calendar for September; They include: Mason, Runnels, and Tom Green. If everything continues progressing as it has, I will be establishing Harvest-Aid test plots the week of September 11. If you need materials for establishing test plots, please let me know as soon as possible.
The only harvestable variety test plots that I am aware of are in Fisher, Runnels and Tom Green County. If you need added to the list, please contact me so I can prepare for ginning in Lubbock later this Fall.
Pesticide Recertification Training
On September 11, there will be a training conducted at Abilene for producers needing to obtain a Private Applicators License. For more details and to register for the meeting call Gary Bomar at (915) 672-6048.
Pesticide disposal tentative for December 4 at Wall, Texas.
---
Monthly Calendar
September 2000

September 1, District Office, Teleconference
September 4, Holiday
September 5, Office Conference
September 6, Mason County Crop Information Day
September 7, Sheep and Goat Field Day at San Angelo
September 8, Planning meeting for 2001 Cotton Conference
September 11-15, Establishment of Test Plots and Tours
September 15, Professional Ag Workers Meeting
September 18, Specialist Scheduling
September 19, Tom Green County Master Gardener Program
September 20, Celebration of Boll Weevil Eradication
September 25 & 26, Lubbock County Water Resources Training Workshop
September 28, Fisher County Hay Show
October 2000

October 2, Office Conference
October 2 - 4, Bandera County, Soil and Crop Science Project Group Meeting
October 25 & 26 Bell County, Yield Estimator Training
Sincerely,


Billy E. Warrick
Extension Agronomist
Texas Agricultural Extension Service
Texas A&M University System