August 1, 2008



Wheat
Linked is a copy of the agenda for the Big Country Wheat Conference to be held in Abilene, Texas on August 19, 2008. There are a number of excellent speakers on the program and it will be worth your time and effort to attend.
The grain yield information from Concho, Gillespie, McCulloch, Runnels, and Taylor Counties has been summarized and linked here. Wheat variety test results varied greatly due to location and timeliness of the rain.
Other Wheat Variety Test Results that might be of interest to you include:

Rolling Plains Wheat Variety Test Results 2007-2008
Field preparation for planting small grains should be completed soon so the seedbeds have time to firm. Volunteer plants and weeds serve as host for insects and disease and need to be terminated a minimum of two weeks before planting. The use of a burndown herbicide will also work, but time is needed to allow for the plant to die and dry out.
Small grain variety testing in 2008
The best suggestion I can offer to you is to help establish, evaluate and promote the nurseries at Abilene and Brady. Runnels and Concho County will still plan and conduct tests and their committee people may have to get involved in securing seed. When I ask for a bag of seed you would think I was asking the company to cut off their arm. Get a producer that buys 250 bags of seed to ask for a couple of bags for the county test and all of the sudden it is available. You may want to ask Gaylon Morgan or Calvin Trostle for assistance in designing the test to include the best varieties available for this planting season.
Cotton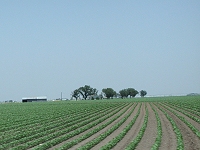 The cotton plant functions at maximum level if the temperature remains between 72 and 95 degrees Fahrenheit. As daytime temperatures get above 95 degrees we are losing plant development time. Square retention on cotton impacted by high air temperatures in August will be a challenge. These 100 degree F days are playing havoc with this small stature cotton. As the young squares (less than five days of age) are developing, the heat generated from the soil surface is high enough to result in pollen sterilization. If there was only one or two days of these hot temperatures, most producers would not even notice the loss of bolls at flowering. However, with a week of these temperatures, we will have an obvious gap in the cotton fruiting pattern and producers will want to blame it on a flush of insects or something. In acreage where cotton plants have developed enough canopy to shade the ground, this impact on squares will be greatly reduced.
Another problem for this late emerging cotton is the need to have a bloom by September 5th, which is the last day for a bloom to make a boll with quality traits demanded by buyers. After that date, it may make lint but the micronaire and yield per boll will be low. To help reduce the impact of low micronaire, producers may want to reduce plant development by applying mepiquat chloride during the first week in September. This will reduce the amount of low quality lint by reducing the number of immature bolls harvested at the end of the season. The late emerging cotton will need a lot of heat units in September and October and a late freeze if it is going to make it.
Once cotton has started blooming, producers should consider the soil fertility level of their fields and implement any changes needed to address a nutrient shortage. Most of the carbohydrate production by the leaves will be dedicated to the development of the boll instead of the expansion of the plant (stem, leaves, roots). Most of the nitrogen applied in a foliar application will be transferred into the boll. A cotton plant can handle five to six pounds of actual nitrogen from each foliar application. The foliar applications can generally be made on a weekly basis without any injury to the plant. Due to cost, most producers won't make more than three applications.
The cotton that emerged by mid-May to early-June may be ready to harvest by the end of September.
Grain Sorghum
On early planted grain sorghum, producers should be encouraged to harvest the crop as soon as possible. The stress that the plants encountered in the early stages of development may have weakened the stalk making it prone to lodge. Poor stalk strength may become apparent if we have harvest delays due to the weather. Timely grain sorghum harvest will be very important this year.
Pesticide Recertification Training
On August 11, there will be a training conducted at Abilene for producers needing to obtain a Private Applicators license. For more details and to register for the meeting call Robert Pritz at (325) 672-6048.
Monthly Calendar
August
August 4 - 6, Comal County, Specialist Association Meeting
August 12, Brown County, Food Plot for Wildlife Presentation
August 13, Gillespie County, Hay Show and Small Grain Production Meeting
August 14, Tom Green County, Silver Clover Banquet
August 19, Taylor County, Big Country Wheat Conference
August 31, Completed 32 Years of Service to Cooperative Extension

September

September 4, Retirement Celebration, Tom Green County 4-H Building
September 14-19, 2008, Galaxy III Conference in Indianapolis, Indiana
Sincerely,


Billy E. Warrick, Ph.D.
Professor and Extension Agronomist
Texas AgriLife Extension Service
Texas A&M System