September 1, 2006



Wheat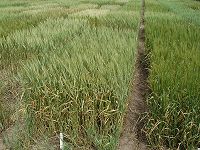 By now, the producers planning to plant for forage production should have plowed their land so that the soil can store any rainfall received. This early land preparation allows the emerged volunteer plants to die and dry, reducing problems with disease and insects. It also allows the soil time to firm up, this helps to support the weight of the drill, allowing producers to plant seed at a desired depth of 1.5 to 2 inches. Planting depth is usually shallower (1.5 inches) in hot, dry soils and is planted to a depth of 2 to 2.25 inches in the mid-October time frame. The planting depth is reduced to 1.5 inches when we get to the mid-November time frame.
Also, with the rain received in late-August we can expect to see volunteer weeds emerge. If the land is ready for planting, the weeds can be controlled with a herbicide--plowing results in soil moisture loss.
---
Small grains to be planted in this years forage tests in Coke, Glasscock, Runnels and Taylor Counties include: Jagaline, Cutter, Sturdy 2K, Fannin, WinMaster, Abilene Ag Exp. 1, Longhorn, Jagger, Horizon 314 Oats, Walken Oats, Elbon Rye, and TRITCALE 5019.

Small grains to be planted in this years grain tests in Callahan, Concho, Gillespie, Jones, Pecos and Runnels Counties include: Dumas, Coronado, 2158, TAM 111, TAM 112, Jagaline, Cutter, Fannin, Sturdy 2K, WinMaster, Abilene Ag Exp. 1 and Longhorn.

In addition to the tests listed above a nursery will be established in Taylor and McCulloch Counties.
---

The Wheat Conference held in Abilene on August 17 was well attended with over 200 producers from across the state. The agents in attendance indicated that this was an excellent agent training meeting, all involved in planning are to be commended. Every producer I talked to said thanks for putting this outstanding program together. I enjoyed the wide array of presentations which increased my knowledge on wheat growth and development.

Linked is the summary from the Concho County wheat test conducted in 2005-2006. The summary from the Runnels County Tests was linked to last months newsletter.



Cotton
How many cotton result demonstration tests do we have left? I would appreciate it if you would estimate the number of cotton samples that will need ginning. Once the total is determined I can book the gin at Lubbock for either one or two days to gin the cotton samples harvested.
This cotton is progressing rapidly and soon will be ready for harvest aids. At this time, we are planning to establish cotton harvest aid tests in Howard, Nolan, Reagan, Runnels and Tom Green counties. To prepare for the questions you will receive concerning cotton harvest aids please review the harvest-aid information in this newsletter. For complete information go to CDMS and read the complete label.
Due to drought stress, the dryland crop set bolls for a short period of time before cutting out. This will result in cotton being ready for harvest by mid- to late-September. The application of harvest aids may be the choice of many producers this season. The harvest aid used by most dryland producers is paraquat. I use that active ingredient name because Syngenta has change the name again. For years paraquat was sold as Cyclone ®, a 2 pound material; then it went to Cyclone ® Max, a 3 pound material; then it was marketed as Gramoxone ® Max, which is a 3 pound material. This season the product sold by Syngenta is called Gramoxone Inteon TM, a 2 pound material. Chemtura Corporation will be marketing a 3 pound paraquat this season its trade name will be Firestorm TM. From tests previously conducted with paraquat, an application of the product in the late evening provided the highest level of desiccation. For defoliation purposes the chemical needs to be applied in the middle of the day.
You are seeing a lot of press on ET TM, a product marketed by Nichino America Inc., that was used in test plots in Tom Green County the last four years. It worked well but had no advantage to Aim ®, Blizzard TM or Resource ® which work basically the same way. If you are familiar with Aim ® then you have a good idea of how ET TM works.
From October 1 until a freeze may be 60 to 90 days and once the cotton opens, its quality is impacted by environment and insects. Boll development slows as we get into the cooler part of the fall and the potential for freeze increases. Several studies have been conducted that show a benefit from applying Prep (Ethephon) three days before a freeze. The benefit of this 1.33 pint application has resulted in the opening of bolls that remained closed in the untreated plots.
The ideal temperature for cotton boll development is 95 degrees for the max air temperature of the day and a minimum air temperature of 65 degrees at night. This allows for cotton to develop 24 hours per day. The cotton plant goes into a survival mode once the temperature gets above 95 degrees and that loss of development time is critical to developing bolls. Also, development time is lost when the "cotton boll" temperature is below 60 degrees; development of lint and seed is stopped.
Linked is the answers to questions 15 to 40 in your cotton handbook.
Weed Control Opportunity
Warren Multer and I worked on a handout concerning late season weed control opportunities. Linked is a copy of the handout.
Pesticide Recertification Training
On September 11, there will be a training conducted at Abilene for producers needing to obtain a Private Applicators License. For more details and to register for the meeting call Gary Bomar at (325) 672-6048.
If you have training or a CEU course during the next two months, please let me know so I can share that information with other agents and producers. Thanks.
Monthly Calendar
September
September 1, Reagan County, Establish Harvest Aid Test
September 7, District 7 Office, Sheep and Goat Field Day
September 8, District 7 Office, Teleconference
September 11, Runnels and Tom Green Counties, Establish Harvest Aid Test
September 12, Reagan, Upton, and Glasscock Counties, Cotton Tour
September 15, Howard County, Establish Harvest Aid Test
September 18, District 7 Office, Administrative Meeting
September 19, District 6 Office, Specialist Scheduling
September 20, Eastland County, Drift Minimization Presentation
September 21, Runnels County, Crops Tour
September 22, Tom Green County, Crops Tour
September 26, District 7 Office, Specialist Scheduling
September 27, Nolan County, Establish Harvest Aid Test
September 28, Howard County, Ag Expo and Crop Tour

October

October 2, District Office, Office Conference
October 10, Nolan County, Crops Tour
October 17, Lampasas County, Soil and Soil Fertility Meeting
October 19, Fisher County, Ag Day
October 20, Tom Green County, Professional Ag Workers Meeting
Sincerely,


Billy E. Warrick
Professor and Extension Agronomist
Texas Cooperative Extension
Texas A&M University System