November 1, 2006

Wheat
It seems like we are running ahead of schedule on planting small grain this season. This year may provide the opportunity to get some fall forage data from several small grain variety tests (if enough rain falls to avoid plant stress resulting from the lack of soil moisture). Most of District 6 and 7 are needing rain to accumulate soil moisture and provide some needed runoff for stock tanks and reservoirs.
With each passing day in November, the requirements of wheat will change. After the middle of the month the planting rate will need to be increased, the planting depth will need to decrease, and the development of the plant will slow down. I have seen many acres where land preparation practices were very poor and the survival of volunteer plants was high. We can expect some disease problems to result from this. Special concerns include Wheat Streak Mosaic Virus and Barley Yellow Dwarf.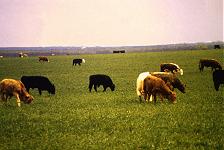 Grazing of wheat should be delayed until the secondary root system has developed enough to anchor the plant. If producers start the grazing process too early the livestock will pull the wheat plant up by the roots and reduce the plant population. Producers should examine the wheat plant and determine if the secondary root system has adequately developed before livestock are allowed to graze.
Most of the early planted wheat is lush and rapidly growing and vulnerable to a freeze. When the first freeze occurs, tip burn will give the field a yellowish bronze color, however, the wheat will return to a green color in a couple of weeks as the injured leaves are hidden by the new plant growth.
Producers should keep a watchful eye on the developing broadleaf weeds. When weed size becomes a concern the producers need to follow the label closely. Most of the labels on 2,4-D herbicides indicate that the wheat needs to be past the tillering stage before applying the herbicide. You may need to switch over to some other class of herbicide. Linked is a copy of the 2006 Small Grain Weed Control Guide to help you answer the weed questions that you may get.
For the last four years we have had to sign an agreement with AgriPro for the use of their wheat seed in variety test plots. Linked is this years form that you need to get your cooperator to sign and then you can send it back to me. To make this easy, just list everything you are planting in the test plot; that way you know it is covered. Agripro Wheat Demo Seed Distribution Agreement
Cotton
The results obtained from Harvest aid result demonstrations tests conducted this year ranged from good to poor. The environmental factors were favorable for regrowth and detrimental to defoliation. The rainfall in late-August and early-September resulted in additional cotton plant development of 6 to 18 inches. The removal of juvenile growth could only be achieved using 4 ounces or more of Ginstar. The juvenile growth could be desiccated using 0.75 ounce of Aim or 1.5 ounces of ET per acre. The cooler air temperatures slowed the development of the abscission layer and that delayed the followup treatment of paraquat (Gramoxone Inteon, Firestorm, etc). Additional boll opening was obtained using a high rate of Finish. The expense of many of these Harvest aids kept producers from using them. Harvest on many dryland acres will not occur until after the first killing freeze. Several counties established harvest aid tests and the final reports were attached to last months newsletter. A complete list of tests and results are linked.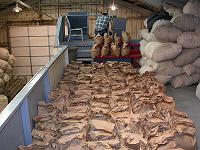 We have requested November 28 to gin District 6 cotton variety test samples and November 29 to gin District 7 cotton samples. At this time the gin is down and being repaired. If you can assist in ginning cotton please contact me. We usually need four people to get the job done. I need to let all the cotton producing counties know who is going so they can make the necessary arrangements to drop off their gin samples. Attached is a blank gin sheet that will need to be filled out and sent with your cotton samples. The seven digit sample number is a combination of three numbers; the county number is the first three digits, the producer or plot number is digits 4 and 5, and the sample is assigned a number between 01 and 99 which makes up digits 6 and 7. By using this code it helps to keep samples from getting lost. Try to have your gin samples between 600 and 650 grams. Thanks. If anything changes I will let you know.
Don't forget to send me your cooperators information. Attached is the information I need to help in writing up the result demonstration reports. It provides the information needed for the methods and materials section of the report. You should already have this completed; if not try to get the information when you are harvesting the plot.
Linked is the answers to questions 69 to 90 in your cotton handbook.
Pesticide Recertification Training
On November 13, there will be a training conducted at Abilene for producers needing to obtain a Private Applicators license. For more details and to register for the meeting, call Gary Bomar at (325) 672-6048.
On December 13, a five hour CEU course will be held at the Taylor County Extension Office. This training is being hosted by Texas Cooperative Extension, and the Texas Department of Agriculture. For more details and to register for the meeting call Gary Bomar at (325) 672-6048.
For Your Information
On the first Monday in December the Old Time Friends of Extension luncheon is held in San Angelo. I have attended this meeting every year for the last 17 years. It has been worth my time and effort to attend. If you want more information give me a call.
Monthly Calendar
November
November 6, District 7 Office,Office Conference
November 6, Taylor County, District 4-H Gold Star Banquet
November 10, District 7 Office, Teleconference
November 14-18, Annapolis, Maryland, National Epsilon Sigma Phi Meeting
November 23 & 24, Holiday
November 28 & 29, Lubbock County, Gin Cotton Samples
December
December 1, District Office, Southern Rolling Plains Gin Delegate Meeting
December 4, District Office, Office Conference
December 4, Tom Green County, Friends of Extension Luncheon
December 5 & 6, Brown County, ESP Board Meeting
December 13, Taylor County, CEU Course
December 21 - 31, Potter, Randall, & Deaf Smith Counties, Christmas Holiday
Sincerely,


Billy E. Warrick, Ph.D.
Professor and Extension Agronomist
Texas Cooperative Extension
Texas A&M University System