Texas Agricultural Extension Service
Texas A&M University System
December 21, 2000



Wheat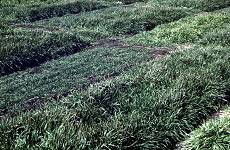 We have a wide range of ages in this wheat crop. Some wheat was planted in September and other wheat planted in mid-December. The impact on plant development and forage production will result in a number of questions by producers. The cool soil temperature is resulting in a purple coloration in some of the younger wheat and this occurred primarily from poor phosphorus uptake by the plant. Root development on the mid-December planted wheat will be weak and the plant will stress easily if soil moisture reserves are depleted.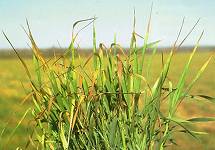 Several wheat samples were submitted from early planted fields that were injured by freezing temperature. Most of the acreage impacted was small grain fields planted early that had plants that were lush and rapidly growing. Most of the injury was on the leaf tips and the plants should recover without a major impact to yield.
I know we have a number of producers asking questions about controlling the high populations of weeds in their oats and wheat. If you identify a field with Wild oats, Ryegrass or Bromegrass problems let me know. If the weeds are young enough we may be able to establish a test to evaluate control products.

Cotton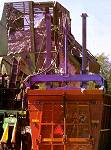 Each year several tests are conducted to evaluate cotton harvest-aids. This year the economic difference of harvesting the crop in a timely fashion versus waiting on a freeze was dramatic. In several irrigated fields in our area the loss due to grade and yield was over $75 per acre.

Pesticide Recertification Training
Monday, December 8, there will be a training conducted at Abilene for producers needing to obtain a Private Applicators License. For more details and to register for the meeting call Gary Bomar at 915-672-6048.
On Monday, January 22, there will be a CEU course conducted in Runnels County. For this course participants should call Marty Gibbs (Ballinger 915-365-2219) to register for the meeting.
On Tuesday, January 23, there will be 3 CEUs offered at the Permian Basin Cotton Conference in Stanton. Those interested in attending need to contact Lee Howard (Stanton at 915-756-3316).
On Wednesday, January 24, there will be CEUs offered at the multi-county meeting held in Anson. Those interested in attending need to contact Todd Vineyard (Anson at 915-823-2432).
For more CEU information visit the TDA Pesticide CEU Page
---
Monthly Calendar
January 2001

January 2, Office Conference
January 9 - 13, Beltwide Cotton Conference at Anaheim, California
January 23, Multi-County Cotton Production Meeting in Martin County
January 24, Multi-County Production Meeting in Jones County
January 24, Production Meeting in Knox County
February 2001

February 5 - 7, Cotton Physiology Work Group Meeting in Bexar County (San Antonio)
February 15, Production Meeting in Howard County (Big Spring)
February 20 & 21, West Texas Farm & Ranch Show in Taylor County (Abilene)
February 22, Cotton Conference in Fisher County (Rotan)
February 26 & 27, Texas ASA meeting in Lubbock
Sincerely,


Billy E. Warrick
Extension Agronomist
Texas Agricultural Extension Service
Texas A&M University System