June 1, 2007



Wheat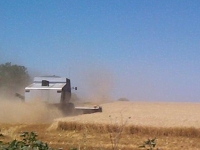 The harvest of wheat will soon begin. As you harvest samples from variety tests the information I need is: The foot of drill row(s) harvested and the number of inches from drill row to drill row. I will need this information to calculate the yield per acre. The thrasher is located at the Research and Extension Center at San Angelo. You may want to team up with another county to thrash samples. It takes at least two people to do the job efficiently. After the thrashing of grain is complete the grain weights can then be entered into a spreadsheet and the information you want determined. Also at the time of harvest, you may want to get the production information from your demonstration cooperator.
The information collected from the Runnels County Wild Oat Control Demonstration was useful in a number of aspects. I have linked a copy of the results for your information. As results of small grain tests are summarized, I will send you a copy. If you need help with data analysis just give me a call.
Secondary fungus development in freeze damage spikelets has resulted in a number of phone calls and office visits. The spikelets are a dark brown color and in most cases there is no grain developing. It gives the wheat head a very unusual coloration.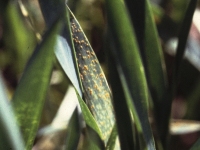 Several fields of wheat and oats had high levels of Rust develop late in the season on the flag leaf. The environmental conditions for April and May have been perfect for the fungi development. It was too late to make a fungicide application on most acreage when the problem became apparent. Grain yields could be impacted on some acreage but in most cases the grain was mature before the flag leaf was lost.
The wheat variety information is updated each year to reflect changes in disease and insect ratings in our region. A copy of this information is now posted at the following URL http://sanangelo.tamu.edu/agronomy/wheat/wht2007.htm.
Cotton
Cotton planting for a large portion of the region was delayed due to rain. Many producers are just now planting their cotton and the crop should grow rapidly. Cotton plant development is driven by temperature and soil moisture and both should be adequate through June for most producers.
Linked are two information sheets on cotton growth and development that have been prepared for the insect scout school to be held June 4. It can be used to refresh your memory concerning cotton plant development and to assist you in answering producers questions.
http://sanangelo.tamu.edu/agronomy/cotton/pgd/cottonplantgrowth.pdf
http://sanangelo.tamu.edu/agronomy/cotton/pgd/hacpg.htm
Side dress nitrogen application should be discontinued when cotton reaches the one-third grown square stage. This should occur the last part of June or the first part of July on a large percentage of the acreage in our area. When that window of opportunity is past, producers will have to make foliar applications of nitrogen after the crop begins to bloom.
An application of a plant growth regulator will not be considered until the end of June. At that time producers will need to consider the variety planted, the soil nutrient load, the soil moisture availability, and cotton plant development to determine the rate and timing of the growth regulator product selected.
The Southern Rolling Plains Conservation Tillage Tour has been scheduled for July 6. The tour will be conducted in Runnels County. If you need additional information contact Rick Minzenmayer at 325-365-5212.
Linked is a copy of the Cotton Physiology Today publication, this is provided to producers by the National Cotton Council. The topic of this publication is "Planting and Replanting Decisions".
Forage Sorghum
A limiting factor on a number of acres this year may be related to nutrients. With the amount of rain received there may be a shortage of both nitrogen and phosphorus for the amount of growth that could occur. This nutrient deficiency needs to be corrected early in the plants development. An application of fertilizer should be completed by the seven-leaf stage to get the most for the dollar invested. Having the correct nutrient and soil moisture balance will result in an increased number of leaves and grain.
For plants suffering from iron chlorosis, an application of iron sulfate will make a big difference. For more information on the topic refer to the linked publication. http://sanangelo.tamu.edu/agronomy/sorghum/l5155.pdf
Corn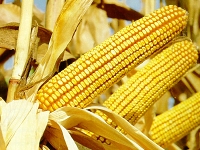 There are a couple of reasons that corn for grain is not generally done in the desert. At the time of pollination the water requirement for the corn will be 11,000 gallons per acre per day. You need to be able to provide 750,000 gallons of water per acre to produce a grain crop. To successfully pollinate the crop the relative humidity needs to be moderate and the max air temperature for the day less than 90 degrees F. Occasionally we get the right combination of environmental conditions through the pollination period. However, the hot, dry winds during the grain-fill period tends to reduce yields. That is why a lot of the corn is harvested as ensilage. Even though the price of fertilizer is high, the production of corn can be reduced significantly if nutrients are not provided at the level needed.
Pesticide Recertification Training
There will be an Insect Scout School conducted June 4 at the Texas A&M Agricultural Research and Extension in San Angelo. This course will be good for 2 CEUs for TDA Pesticide Applicator License holders. Agenda is linked.
On June 11 there will be a training conducted at Abilene for producers needing to obtain a Private Applicators license. For more details and to register for the meeting call Gary Bomar at (325) 672-6048.
For Your Information
There are a few positions available for youth to attend the Agricultural Safety Day sponsored by Progessive Farmer to be held in San Angelo on June 20. If you know of a farm or ranch youth between the ages of third to eighth grade that would like to attend, have their family contact Garry Branham at (325) 659-6525. Deadline for registering is June 15.
Monthly Calendar
June
June 4, District 7 Office, Office Conference
June 4, Tom Green County, Insect Scout School
June 15, Tom Green County, Professional Ag Workers
June 19, Glasscock County, Turnrow Meeting
June 20, Tom Green County, Farm and Ranch Safety School
June 25 - July 10, Annual Leave

July

July 4, Holiday
July 11, Brown County, Forage Information Day
July 17, Glasscock County, Forage Meeting
July 19 & 20, Travis County, Reporting System Evaluation
July 23 - August 2, Annual Leave
Sincerely,


Billy E. Warrick, Ph.D.
Professor and Extension Agronomist
Texas Cooperative Extension
Texas A&M University System