July 1, 2003



Wheat
Callahan, Coleman, Concho, McCulloch. Runnels, Taylor and Tom Green Counties have thrashed their wheat plots and results will be posted soon. Linked are the summaries from the Runnels County and Tom Green County Tests.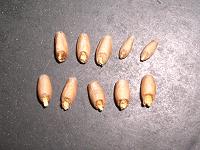 The rainfall in early June was greatly appreciated. However, about half of the wheat acreage had not been harvested and the wheat was impacted. Some grain was discolored and some initiated germination. If you examine the seed in the picture sent by Lance Rasch you can see that germination had begun. The seeds may still have a good germination but its vigor is in question. If this seed had to be planted I would make sure that the soil temperature was within range (it won't tolerate high or low temperatures very well) and soil moisture needs to be favorable. Avoiding plant stress at the time of planting and for the first seven days will be important to establish a stand.
Cotton
Many areas of the district received 5 to 10 inches of rain during June. For the most part the temperatures have been great for man and beast which isn't the best conditions for growing cotton.
The wide range of rain received this year complicates many management decisions. I have looked at some early planted cotton that had five true leaves and it was only four inches tall. The weather conditions during June was favorable for seedling disease development that damaged the cotton root system. The amount of root system lost ranged from 0 to 80 percent. Some of the poor performance of the crop is probably due to low fertility. The leaching of nitrates below the developed root zone slowed the initial plant development.
A side-dress application of nitrogen can be made until the 1/3 grown square stage, if it isn't completed by then, producers will need to wait until the crop begins blooming and foliar apply nutrients. Urea is used by a number of producers to apply foliar nitrogen; the big question is how much? The cotton plant can absorb about 5 to 6 pounds of nitrogen per application. So a producer would be applying 10 to 12 pounds of urea per acre each trip. If a higher rate of nitrogen is applied, leaf burn can be expected. The foliar applications can generally be made on a weekly basis without any injury to the plant. Due to cost, most producers won't make more than three applications.
If July and August are hot, the plants with a weak root system will suffer. Factors causing the greatest concern are: 1) plants with a lot of leaf surface area will transpire water through the natural openings in the leaves faster than the roots can meet the demand, 2) the root system is not adequately developed and limited in the amount of moisture and nutrients it can remove from the soil, 3) even though adequate soil moisture and nutrients exist, once the plant begins blooming and setting fruit the root system's development is slowed greatly due to the plants normal processes of boll development. So the best opportunity to develop a more extensive root system is before blooming begins. Producers can encourage root development by making sure that adequate nutrients are available. If the window of opportunity was missed to make soil applied side-dress applications of nutrients, then foliar application is the alternative.
Several of the 23 cotton variety test established this year have been lost due to weather conditions. If you loose a plot please let me know, seed company representatives often want to visit the tests during the summer.
Grain Sorghum
Is it to late to plant grain sorghum? It just depends on how big a gambler you are. If you plant a 100 day grain sorghum on July 1 you may or may not have enough time. It will depend on the temperatures at the end of the season and when it freezes. If you do plant grain sorghum late, the application of nutrients should be made prior to the seven- to ten-leaf stage. Several producers have called asking about varieties of grain sorghum to plant. Linked is a list of companies that sell grain sorghum. Most of the web sites provide information on the varieties.
Pesticide Recertification Training
On July 14, there will be a training conducted at Abilene for producers needing to obtain a Private Applicators License. For more details and to register for the meeting call Gary Bomar at (915) 672-6048.
Weed Identification
The weeds pictured in this section were submitted by Stephen Biles during June.
Charles Stichler sent me some weed pictures and I posted them on the Texas Weed Information Group web site. Several of the weed in Stichler's collection were new to me. Check them out at the following link http://twig.tamu.edu/Stichler/index.html.
Pesticide Recertification Training
On July 14, there will be a training conducted at Abilene for producers needing to obtain a Private Applicators License. For more details and to register for the meeting call Gary Bomar at (915) 672-6048.
Monthly Calendar
July
July 1, Runnels County, Conservation Tillage Tour
July 7, District 7 Headquarter, Office Conference
July 16, Haskell County, Conservation Tillage Tour
July 17 - 23, Annual Leave
July 26-29, Bexar County, Texas Cooperative Extension Specialists Association

August

August 4, District 7 Headquarter, Office Conference
August 11, Taylor County, Small Grain Meeting
August 15, Tom Green County, Professional Ag Workers
August 28, Glasscock/Reagan County, Establish Harvest Aid Test
Sincerely,


Billy E. Warrick
Extension Agronomist
Texas Cooperative Extension
Texas A&M University System